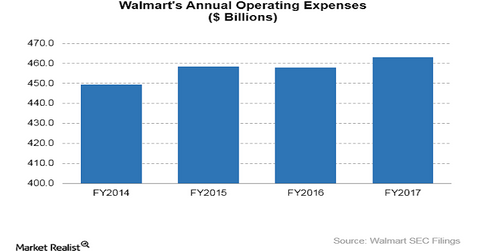 Making Sense of Walmart's Layoffs and Store Closures
By Ruchi Gupta

Feb. 6 2018, Updated 7:32 a.m. ET
Dozens of Sam's Club stores closing
Walmart (WMT) announced recently that it was closing dozens of Sam's Club stores, saying the move was a result of a thorough performance review. Walmart is closing 63 Sam's Club stores, which leaves it with 597 stores out of the current portfolio of 660 stores. 
"Transforming our business means managing our real estate portfolio and Walmart needs a strong fleet of Sam's Clubs that are fit for the future," John Furner, CEO of Sam's Club, noted in a statement.
Furner noted that these store closures could result in job losses and that the company implemented measures to assist the affected workers. He added that this effort may include relocating some employees at nearby stores.
Article continues below advertisement
500 corporate workers laid off
About two weeks after announcing plans to close these Sam's Club stores, Walmart confirmed to MarketWatch that it had eliminated about 500 jobs at its headquarters in Bentonville, Arkansas.
How should investors interpret the store closures and headcount reductions by Walmart? Store closings and the subsequent retrenchment by traditional retailers such as Walmart, Target (TGT), Best Buy (BBY), and Sears (SHLD) are not new. 
With the market disruption by technology, in which a growing number of households are shopping online, legacy retailers have had to respond as they face growing competitive threat from e-commerce retailers such as Amazon (AMZN).
Walmart keeps foot on the cost-cutting pedal
Walmart's recently announced store closings and the expected layoffs seem to suggest that cost-cutting is the company's focus. Walmart spent more than $463.0 billion in operations in fiscal 2017, compared with $458.0 billion in fiscal 2016.
The retailer could use saving from shrinking its physical store footprint as well gains from the tax reforms to invest in technology to expand its online operations.