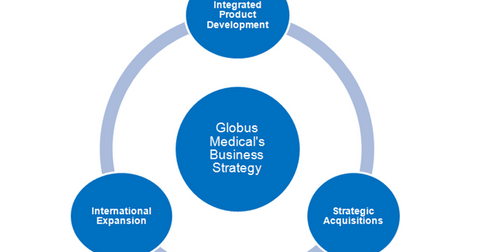 A Look at Globus Medical's Segmental Performance
By Kenneth Smith

Updated
Business segments
Globus Medical (GMED) classifies its products into innovative fusion products and disruptive technology products. Sales of innovative fusion products rose to $80.2 million in 3Q17 compared to $68.4 million in 3Q16. The increase was attributable to the increase from Alphatec's international sales.
Sales of products in the disruptive technology category grew at a slower pace to $71.5 million in 3Q17 compared to $67.1 million in 3Q16. The increase was primarily due to sales of expandable interbody, minimally invasive, and regenerative biologics products launched in the past three years.
Innovative fusion products consist of products designed to treat a variety of musculoskeletal disorders and are used in various surgical procedures.
Article continues below advertisement
Its disruptive technology category products include products that allow for minimally invasive surgical techniques and new alternatives of treatment. They include robotic imaging and navigational technologies, motion preservation technologies, regenerative biologics technologies, and interventional pain management solutions.
Business strategy
Globus Medical endeavors to be the leader in providing innovative solutions for the treatment of patients with musculoskeletal disorders. The company has a three-pronged strategy.
Article continues below advertisement
Leverage integrated product development
Globus Medical plans to continue developing new spine, robotic, and trauma products by using the company's product development capabilities. It launched 17 new products in fiscal 2016 and expects to launch five to ten new products each year until 2019.
International expansion and increased size, scope, and productivity of US sales force
Globus Medical plans to increase the reach and penetration of the US markets by increasing the headcount of its US sales force and provide specialized development programs to improve productivity. The company has also embarked on building an exclusive US and international sales force to support sales of robotics and trauma products.
With the acquisition of Alphatec Holdings, Globus Medical has increased its international presence significantly. At the end of December 2016, Globus had a sales presence in 49 countries through direct or distributor sales.
Pursue strategic acquisitions and alliances
The company intends to pursue acquisitions and alliances that can provide new or complementary technologies and increase market penetration.
Globus Medical makes up 0.15% of the iShares Russell 2000 ETF's (IWM) total portfolio holdings.
In the next part of this series, we'll take a look at Globus Medical's financial performance.