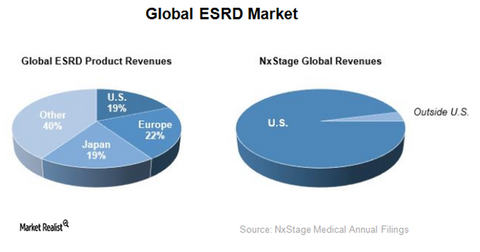 Insight into the NxStage Medical–Fresenius Medical Care Merger
By Kenneth Smith

Updated
Improving prospects
Since its inception, NxStage Medical (NXTM) has focused on creating a long-term sustainable model driven by innovative technologies. Although NxStage Medical has witnessed revenue growth, it has historically operated at a net loss.
Recently, the company has started to achieve increasing operating leverage and financial improvements. It expects the operating income it generates from its products business to continue to be offset by the losses in its kidney care business and the costs associated with its merger with Fresenius Medical Care Holdings (FAS).
Article continues below advertisement
Merger with Fresenius Medical Care Holdings
NxStage Medical has entered into an agreement to merge with Fresenius Medical Care Holdings (FMS). Under the agreement, the former will merge with a wholly owned subsidiary of the latter subject to certain conditions. On the closing of the merger, all outstanding common shares of NxStage Medical will be converted to the right to receive $30 per share in cash. The stockholders of NxStage Medical voted to adopt the merger plan in October 2017.
Under the agreement, Fresenius will be liable to pay NxStage Medical a termination fee of $100 million if the merger agreement is terminated by either party under certain conditions.
Addressable market
Chronic kidney disease is characterized by the progressive loss of kidney function due to damage from diabetes, high blood pressure, or other causes. The final stage of the disease is an irreversible, life-threatening loss of kidney function. This stage is predominantly treated with dialysis, which removes toxins and excess fluids from the bloodstream.
Dialysis is required unless the patient receives a kidney transplant. Dialysis performed by a healthcare professional in a dialysis clinic three times a week makes up NxStage Medical's in-center business segment. Acute kidney failure can happen suddenly due to injury, illness, or other conditions.
According to NxStage Medical, the number of patients at the final stage of chronic kidney disease, or ESRD (end stage renal disease), in the United States is ~495,000, while globally this number is estimated to be 2.6 million. Patients with ESRD rely on life-sustaining dialysis treatment.
In the next article, we'll take a look at the potential market opportunity for NxStage Medical's products and services.