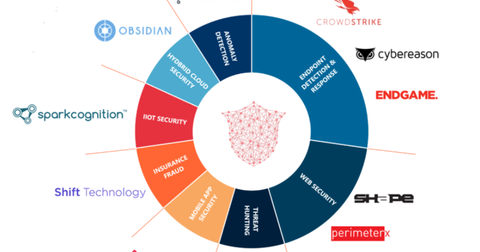 How Much Could FireEye's Embrace of AI Enhance Its Prospects?
By Anne Shields

Updated
Growing sophistication in cybersecurity attacks are difficult to detect
In the preceding parts of this series, we discussed the recent acquisition of X15 Software and how it should boost the capabilities of the FireEye's (FEYE) cybersecurity platform, Helix.
Cyberattacks like WannaCry and Petya have highlighted the growing sophistication and reinforced the idea that nothing is safe anymore. With both of the big ransomware attacks last year, WannaCry and Petya, hackers locked users' screens and unlocked only when the ransom payment was made.

In our past analysis of attacks, we at Market Realist have discussed how Bitcoin was chosen as a ransom payment method by Petya ransomware, which impacted more than 12,000 systems around the world in 2017.
Notably, FireEye's Mandiant incident response team was asked to investigate Equifax (EFX) data breach, which ranks among the largest-ever data breaches disclosed by a public company.
Article continues below advertisement
Increased sophistication in cybersecurity attacks has necessitated the need for AI integration
This new generation of cybersecurity attacks could be more difficult to detect with conventional cybersecurity offerings. The attacks are rapidly evolving over time and thus require a more dynamic approach. Cybersecurity offerings that rely on AI (Artificial Intelligence) and ML (machine learning) use data from past cyberattacks to respond to newer attacks that could pose somewhat similar risks. AI also helps in categorizing attacks based on the level of threat.
As AI and ML can detect simple threats and attacks and provide appropriate solutions, the use of them frees up an enormous amount of time for employees. AI won't make cybersecurity experts obsolete, but it will likely reduce the number of staff required for security and increase their effectiveness.
The above chart by CBInsights shows the cybersecurity startups featured in AI 100 2018 companies. Almost all these startups have integrated AI into offerings, as with each passing day, cyberattacks are growing not only in volume but also in complexity.
In the next part of this series, we'll discuss the possibility of FireEye as an acquisition target.