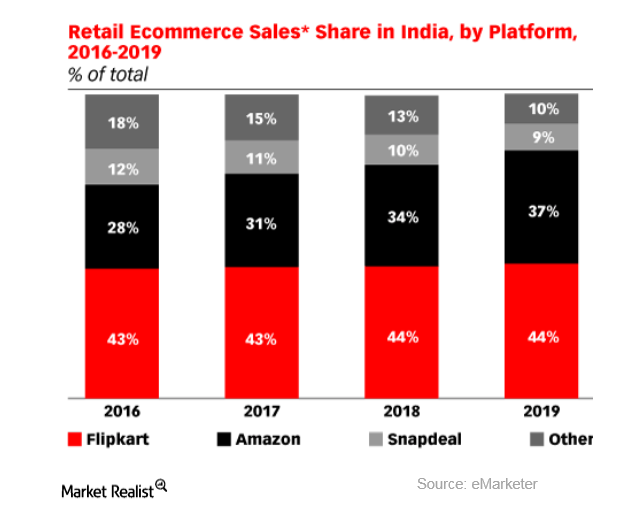 How Alibaba's Plans to Implement Its India Gaming Venture
By Ruchi Gupta

Feb. 5 2018, Updated 10:33 a.m. ET
AGTech to supply game content as Paytm supplies audience
The launch of Gamepind in India marks AGTech Holdings' first international initiative since partnering with Alibaba (BABA) in 2016. In the joint venture partnership that AGTech struck with Paytm, AGTech would focus on supplying content as Paytm would contribute the audience. 
Through Gamepind, AGTech plans to supply games, including sports games and contests via a standalone app as well as on the Paytm app. 
For Paytm, integrating Gamepind into its app is a way to enhance its customer experience. This integration could boost the usage of its services, which include mobile payment, and improving its customer retention.
Article continues below advertisement
Marketing platform
AGTech and Paytm are looking beyond enhancing customer experience and expect to position Gamepind as a marketing and promotional platform. Merchants would be able to can tap into this platform to engage with consumers. This strategy could lead to higher sales for Paytm merchants and generate more revenues for the company.
Paytm owns 55% of the gaming joint venture, and AGTech owns the remaining 45%. Alibaba (BABA) owns controlling stakes in both Paytm and AGTech.
A $54.6 billion e-commerce industry
In India's e-commerce industry, Alibaba's Paytm competes with Amazon (AMZN) and Flipkart. Flipkart counts eBay, Tencent (TCEHY), and Microsoft (MSFT) among its backers.
India's retail e-commerce sales are forecast to grow to $54.6 billion by 2021. Its 2017 sales were estimated to reach $22.4 billion in 2017, according to eMarketer.