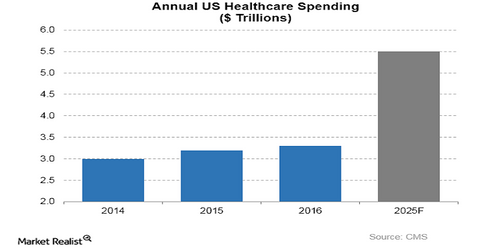 Healthcare Plan: Amazon, JPMorgan Chase, and Berkshire Hathaway
By Ruchi Gupta

Updated
Partners to create healthcare company
Amazon (AMZN), Berkshire Hathaway (BRK), and JPMorgan Chase (JPM) have agreed to set up an independent healthcare company to serve their employees in the US (SPY). The three companies have more than a million workers among them.
In creating a healthcare company to serve their employees, Amazon and its partners are signaling that they have not been impressed with the state of healthcare services in the US.
"The ballooning costs of healthcare act as a hungry tapeworm on the American economy. Our group does not come to this problem with answers. But we also do not accept it as inevitable.
"Rather, we share the belief that putting our collective resources behind the country's best talent can, in time, check the rise in health costs while concurrently enhancing patient satisfaction and outcomes," noted Berkshire Hathaway's chairman and CEO, Warren Buffett.
Article continues below advertisement
Lower healthcare costs
Through this independent company, Amazon, Berkshire Hathaway, and JPMorgan Chase are hoping to challenge traditional healthcare companies by offering their employees healthcare services at a lower cost and with more transparency.
JPMorgan Chase's CEO, Jamie Dimon, suggested that this healthcare partnership could expand to include more companies looking for better options in the healthcare sector.
Healthcare stocks tumbled
The news about the healthcare plan by Amazon and its partners sent healthcare stocks tumbling. These companies included CVS Health (CVS), Express Scripts Holding (ESRX), and Anthem (ANTM) tumbling, highlighting investors' concerns about increased competition.
US healthcare spending reached $3.3 trillion in 2016, with private businesses' healthcare spending increasing 5.0% to account for 20.0% of overall healthcare spending.