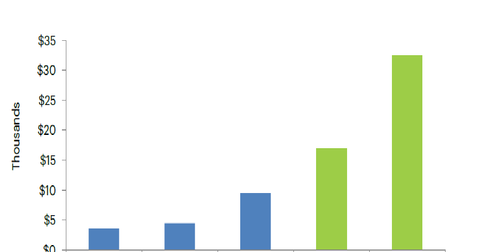 HCP Inc.'s Demographic Drivers of Demand
By Raina Brown

Updated
Healthcare expenditures
Healthcare expenditure as a percentage of US GDP is ~18.0% and is expected to increase to 20.0% by 2025. The National Bureau of Economic Data projects a $2.3 trillion increase in spending over the next ten years, which would create abundant opportunities for its Life Science, Senior Housing, and Mobile Office portfolios.
Article continues below advertisement
Senior demographic tsunami
According to the National Bureau of Economic Data, the first wave of Baby Boomers are expected to turn 75 in 2020. From 2020–2030, this 75+ population is expected to grow by 11.0 million, which represents a 50.0% increase in this segment of the population.
These numbers look promising for the healthcare industry. HCP is settled in its Life Science, Senior Housing, and Mobile Office portfolios, and it has promising opportunities to capture this increasing market.
Healthcare spending
As patients age, healthcare spending increases. On an average, the annual healthcare spending by people age 65 and over is over four times the annual spending by the under-65 population.
Outpatient visits
HCP's medical office buildings benefit from these increased outpatient visits. These numbers have increased significantly decade over decade. In 1994, this number stood at 383.0 million while in 2014, the number grew to 693.0 million. Seniors make over twice the number of annual physician visits compared to the under-65 population
With these changing demographics and rise of the healthcare sector, HCP and its peers Welltower (HCN), Ventas (VTR), and Healthcare Trust of America (HTA) are also expected to gain.
Investors looking for exposure to the healthcare real estate sector can invest in REIT ETFs. HCP holds ~1.2% in the Vanguard REIT ETF (VNQ).