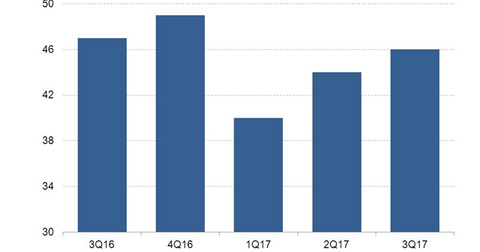 Focus on Ad Business as Zynga Reports 4Q17
By Neha Gupta

Updated
Advertising business has been sliding
Zynga (ZNGA) is gearing up to report its 4Q17 results at a time when there's a lot of attention on its advertising business. Although advertising is a minor contributor to Zynga's overall revenues, recent trends in the business and overall trends in the global digital advertising industry make it a closely watched Zynga operation.
The last time Zynga reported growth in its advertising business was in 3Q16 when it grew 7% YoY (year-over-year) to $47 million and accounted for 26% of overall revenue. In 3Q17, Zynga's last reported quarter, its advertising revenue fell 1% YoY, which followed a decline of 1% YoY in 2Q17, a decline of 18% YoY in 1Q17, and a decline of 11% YoY in 4Q16. The advertising business represented 26% of Zynga's overall revenue in 4Q16.
Article continues below advertisement
Ad business rattled by shift to mobile
When Zynga reports its 4Q17 results, attention will be focused on whether the decline in its advertising business is slowing down or what impact it's having on the overall business, including whether it's improving or declining.
As with other digital game publishers, including Electronic Arts (EA), the weakness in Zynga's advertising business is largely tied to the shift from desktop gaming to mobile gaming. What advertisers are paying for mobile advertising is less than what they pay for desktop advertising. Even larger ad-funded companies such as Alphabet's (GOOGL) Google and Facebook (FB) are dealing with the impact of the shift from desktop to mobile. Google, for instance, has in recent quarters reported rising traffic acquisition costs because it's spending more to attract mobile traffic. Apple (AAPL) is one of Google's mobile traffic partners.
Massive revenue opportunity
The advertising industry presents a massive revenue opportunity for Zynga. In the United States (SPY) alone, eMarketer estimates that spending on digital ads increased nearly 16% to $83 billion. US digital ad spending is forecast to exceed $129.2 billion by 2021.