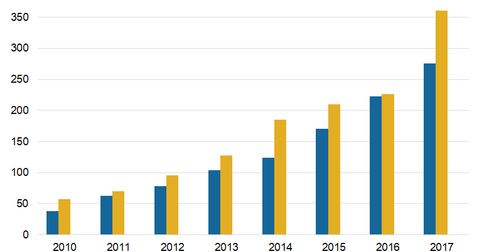 Evercore's Long-Term Commitment to Shareholders
By Raina Brown

Feb. 15 2018, Updated 9:02 a.m. ET
Dividends and share repurchases
Evercore (EVR) has been very committed to rewarding its shareholders in the form of dividends as well as buybacks. In 2017, it repurchased shares worth $750 million, or 8.5 million shares. The dividend has grown 196% since 2008. In 4Q17, Evercore announced an 18% increase in its dividend. That was the tenth sequential year of growth.
As of 4Q17, employees own 30% of the company on a fully diluted basis. Its stock buyback has offset the dilutive effect of shares granted for bonuses, new hire awards, and the portion associated with investments and acquisitions.
Article continues below advertisement
Payout history
EVR's dividend has been increasing steadily for the last five years. The company paid dividends of $0.90 in 2013, $1.03 in 2014, $1.15 in 2015, $1.27 in 2016, and $1.42 in 2017. Evercore forms 0.94% of the iShares S&P Small-Cap 600 Growth (IJT).
Dividend yield compared to peers
Increased opportunity for buyback
The recent stock market crash could give companies buyback opportunities if their cash flows remain constant and trading activities pick up in 2018. One more reason for the increase in the buyback is to improve ROE (return on equity) by reducing the number of shares outstanding.