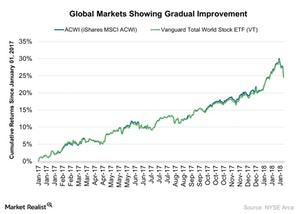 Dan Loeb: Why Growth and Inflation Could Pause the Bull Market
By Sarah Sands

Updated
Dan Loeb on the growth
Billionaire investor Dan Loeb is known in the market for his event-driven investment strategies. For more than two decades, he has beaten the returns of the broader-market S&P 500 (SPX-INDEX), which returned ~19.6% in 2017.
According to CNBC, Loeb wrote, "While we remain optimistic about the trajectory of the economy and markets, we have weighed our positioning with an acute awareness of the risks. Although we do not fear a recession now, 'event risks' need to be considered."
Article continues below advertisement
On economic growth, Loeb wrote, "Since growth is already at a high level, further acceleration is less likely. That means that average returns will likely be lower and volatility higher this year." Global growth weakened in 2016, but then picked up in 2017. The iShares MSCI ACWI ETF (ACWI) and the Vanguard Total World Stock ETF (VT), which track global markets, rose 24.3% and 24.5%, respectively, in 2017. However, Loeb feels this growth has peaked.
Loeb on inflation
Loeb wrote, "Low inflation has been a critical support for the market because it has allowed the Fed to be unhurried in its rate normalization," adding that "we are watching closely to see how a tightening labor market and recently announced wage hikes will shape the future path of inflation."
Inflation improvement could prompt the Fed to follow an aggressive rate hike policy, which could lead to a sell-off in the equity market. In the next part of this series, we'll analyze Loeb's views on earnings growth.