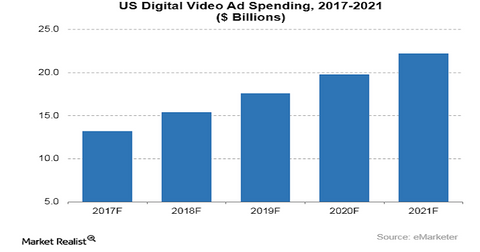 Comcast and Snap's Olympic Coverage Partnership
By Ruchi Gupta

Updated
$900 million Olympics ad revenues
With the Winter Olympics nearing and Comcast (CMCSA) expecting to generate $900 million in advertising revenues from airing games in the United States (SPY), it's important to revisit the NBCUniversal-Snap deal to see where it fits for the companies.
NBCUniversal, the unit of Comcast under which broadcast television operations fall, entered into an Olympics coverage agreement with Snap (SNAP), the parent of Snapchat. The agreement is wide-ranging, but it involves posting some Olympics-themed content exclusively on Snapchat.
Article continues below advertisement
Snapchat helped reach 35 million people in 2016
The NBCUniversal-Snap agreement for the 2018 Winter Olympics coverage built on the partnerships the companies had for the 2016 Rio Olympics. Under the Rio Olympics arrangement, Snap helped NBC reach nearly 35 million people in the United States that it otherwise might have missed.
The Walt Disney Company's (DIS) move to pay roughly $2.3 billion for rights to show NFL games on mobile devices, and Amazon's (AMZN) move to pay $50 million for rights to live-stream NFL Thursday night games on the Internet, highlight the importance of sports content to companies with digital video ambitions. Snap is one of these companies. It's pursuing $22.2 billion in online video advertising marketing in the United States. For Snap, therefore, the NBCUniversal deal offers access to lucrative sports content.
Extending audience
As for NBCUniversal, the arrangement with Snap gives the company an opportunity to extend its audience, especially among young people, which should be good for its advertising business.
Comcast's NBCUniversal made a $500 million strategic investment in Snap during the company's initial public offering in March.