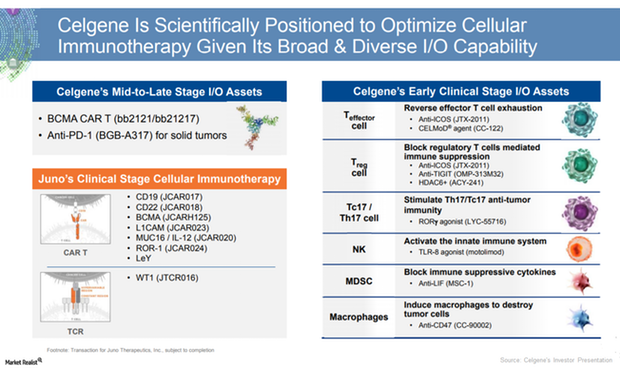 Cell Therapy Market Could Boost Celgene's Long-Term Growth
By Daniel Collins

Feb. 2 2018, Updated 9:02 a.m. ET
Celgene to acquire Juno Therapeutics
On January 22, 2018, Celgene (CELG) announced the signing of its merger agreement with Juno Therapeutics. Celgene will acquire Juno Therapeutics for a cash payment of $87 million. With the acquisition of Juno Therapeutics, Celgene will benefit from all of Juno Therapeutics' facilities related to cell therapy. For an update about the acquisition deal, read Celgene to Acquire Juno Therapeutics: A Deeper Read.
Article continues below advertisement
TRANSCEND trial
In December 2017, Juno Therapeutics and Celgene presented additional results from the phase 1 TRANSCEND trial. Celgene and Juno Therapeutics conducted the TRANSCEND trial to evaluate the safety and efficacy of JCAR017 (lisocabtagene maraleucel) for the treatment of individuals with relapsed or refractory aggressive B-cell non-Hodgkin lymphoma.
In the phase 1 TRANSCEND trial, the core group included 67 patients. In the trial, 29 patients received dose level two (DL2 = 100 million cells), 34 patients received dose level one (DL1 = 50 million cells), and four patients received DL1 twice with a 14-day interval.
At three months, patients receiving DL2 demonstrated an overall survival rate (or ORR) of 74% and a CR (complete response) rate of 68%. Among patients who reached the six-month follow up, 50% achieved a CR. Across all of the doses, 80% of the patients with a CR at three months continued with a CR at six months. Also, 92% of the patients who responded at six months continued as of the cut off date.
Tolerability in the trial
In the TRANSCEND trial, 1% of the patients experienced severe cytokine release syndrome and 15% of the patients experienced severe neurotoxicity. Also, 36% of the patients experienced CRS (cytokine release syndrome). Among the patients on DL1 and DL2, respectively, 3% and 0% of the patients experienced severe CRS.
Celgene's peers that are actively conducting a clinical trial with cell therapy include Novartis (NVS), Bluebird Bio (BLUE), and ZioPharm Oncology (ZIOP). In August 2017, Novartis' Kymriah became the first CAR T therapy to be approved by the FDA to treat children and young adults with B-cell acute lymphoblastic leukemia. Notably, the iShares Core S&P 500 ETF (IVV) invests ~0.34% of its total portfolio holdings in Celgene.