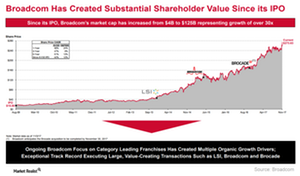 Broadcom's Response to Qualcomm's Statements against the Takeover
By Puja Tayal

Updated
Qualcomm attacks Broadcom's board
Qualcomm (QCOM) opposes a takeover bid by Broadcom (AVGO) because it feels the latter's management may not give justice to its transformative 5G opportunity. Qualcomm also believes that Broadcom's board lacks experience in handling the business risk during the pendency of regulatory review.
Moreover, Qualcomm has stated that Broadcom's board won't consider the benefits to Qualcomm's shareholders and won't be able to deliver strong returns.
Article continues below advertisement
Broadcom's response 
While Qualcomm has talked about the inability of Broadcom's board to give benefits to its shareholders, Broadcom has come back with a strong response. Broadcom stated that Qualcomm's past financial guidance showed that it has missed its guidance repeatedly. Broadcom highlighted Qualcomm's fiscal 1Q18 EPS (earnings per share) of $0.98 and doubted if the company could achieve its $7.5 EPS guidance for fiscal 2019.
Broadcom stated that Qualcomm's arguments show the management's attempt to "deny its own stockholders the opportunity to receive a compelling premium for their shares and significant upside potential in the combined company."
Broadcom's management also stated that it could resolve some of Qualcomm's licensing disputes with customers like Apple (AAPL) by making amendments to the licensing deal.
Qualcomm's response
But Qualcomm appears to be doubtful about Broadcom's way of handling legal disputes. The Qualcomm-Apple dispute has now gone to such an extent that the chip supplier is protecting its IP (intellectual property) licensing model. For the same reason, Qualcomm is appealing several regulatory fines. Broadcom is not a fan of Qualcomm's licensing business and could easily amend the agreements.
In order to show shareholders that it can resolve disputes with customers, Qualcomm announced a deal with Samsung (SSNLF) in which the handset maker would drop its objection to the former's appeal to a $927 million fine imposed by the Korea (EWY) Fair Trade Commission.
Apple cited Qualcomm's Korean dispute as one example of the chip supplier's unfair dealings with partners. Now that the dispute with Samsung is settled, Apple's argument would likely weaken, giving Qualcomm a chance to bring the iPhone maker to the negotiation table.
If a takeover is the last resort, Qualcomm stated that it would force Broadcom to pay a fair price. Broadcom grabbed this opportunity and offered a price of $82 per share, which would mark a premium of 50% from the Qualcomm's pre-acquisition stock price.
In the next part, we'll look at Qualcomm's earnings and assess how Broadcom has leveraged it for a benefit.