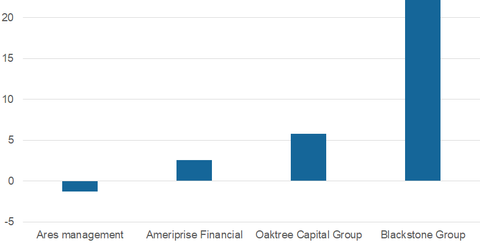 Blackstone's Credit Segment's Total AUM Rose Substantially
By Raymond Anderson

Updated
Returns
The Blackstone Group's (BX) Credit segment delivered composite gross returns of 3.4% and 1.7% in terms of distressed strategies and performing credit, respectively, in 4Q17.
The segment saw deployments of $3.2 billion in 4Q17, while in 2017, it saw deployments of $9.7 billion. The segment's total revenue rose from $256.1 million in 4Q16 to $278.4 million in 4Q17, reflecting a rise in net management fees.
The Credit segment generated net management fees of $155.8 million in 4Q17 compared to $127.6 million in 4Q16.
On a trailing-12-month basis, Blackstone's return on invested capital stood at 23.7%. Its peers (XLF) Ares Management (ARES), Ameriprise Financial (AMP), and Oaktree Capital Management (OAK) saw returns on invested capital of -1.2%, 2.6%, and 5.8%, respectively.
Article continues below advertisement
Total AUM
Blackstone's Credit segment's total AUM (assets under management) stood at $138.1 billion in 4Q17, reflecting a substantial rise of 48% on a YoY (year-over-year) basis thanks to inflows as well as its Harvest acquisition. These inflows came from the company's Insurance Solutions platform.
The total AUM in Blackstone Insurance Solutions stood at $22.5 billion, while the completion of the Harvest acquisition boosted the Credit segment's total AUM by $10.8 billion. In 2017, the segment came up with nine collateralized loan obligations amounting to $5.8 billion, $2.1 billion of which were related to 4Q17.
The Credit segment's total expenses stood at $165.2 million in 4Q17 compared to $132.1 million in 4Q16, implying a 25% rise as a result of a rise in interest expenses.