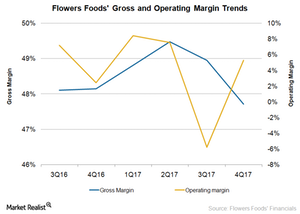 What Affected Flowers Foods' 4Q17 Margins?
By Victoria Dean

Updated
Margin performance
Flowers Foods (FLO) reported a fiscal 4Q17 gross margin of 47.7%, which fell 40 basis points from fiscal 4Q16, primarily due to increases in outsourced labor expenses. The company's reported operating margin was 5.3%, up from 2.4% reported in fiscal 4Q16. Lower SG&A (selling, general, and administrative expense) led to higher operating margins.
Adjusted operating margin was down ten basis points to 6.7% in fiscal 4Q17. Weakness in the Warehouse segment's adjusted operating margin (a 290 basis-point decline) offset the 50-basis-point improvement seen in the DSD segment adjusted operating margin. A 2.3% decline in sales triggered by unfavorable price mix in the warehouse segment was the primary reason behind the lower operating margin.
The company has cautioned that it's likely to face $40 million increases in commodity costs in fiscal 2018 due to cost inflation. To combat this situation, the company is looking to save $38 million to $48 million through its Project Centennial.
Article continues below advertisement
Project Centennial
Project Centennial, which was announced in November 2016, is the company's costs savings initiative under which the company aims to cut down on costs by streamlining supply chain and right-sizing operations. As a part of this, the company shut down its Winston Salem facility last year. Flowers Foods is also focusing on reducing expenses associated with PG&S (purchased goods and services).
The company reported gross savings of $32 million in 2017. The company is on track to deliver $70 million to $80 million in gross savings in 2018 compared with 2016 levels. However, the company expects to incur $12 million to $15 million as consulting and restructuring expenses related to Project Centennial.
How are peers performing?
Campbell Soup's (CPB) margins have been heavily marred by rising costs (logistics, transportation, and carrot costs). The company has extensive cost-cutting measures in place, but rising costs have offset the benefits from these initiatives. For fiscal 2Q18, analysts expect Campbell Soup to report an adjusted gross margin of 37.2% as against 38% reported YoY.
Similarly, General Mills' (GIS) margins continue to be negatively impacted by higher input costs. The company, like most food retailers, is cutting down on costs to ease margin pressure. For fiscal 3Q18, analysts expect General Mills to report an adjusted gross margin of 35.3% as against 35% reported YoY.