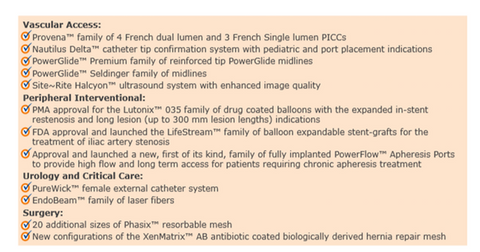 Bard's Anticipated Product Launches in 2018
By Sarah Collins

Updated
Overview
Becton, Dickinson and Company (BDX) (or BD) announced the completion of its acquisition of Bard on January 29, 2018. The company announced some of the anticipated 2018 launches related to Bard during its fiscal 1Q18 earnings results on February 6, 2018.
The chart below shows the 2017 Bard product launches, which are expected to impact BD's sales. In this article, we'll discuss some of the key Bard product launches anticipated in 2018 that are expected to drive BD's growth going forward.
Article continues below advertisement
DCB launches
Bard has a leading portfolio of DCB (drug-coated balloon) devices. The company launched its AV access drug-coated balloon during 1Q18, which is the only FDA-approved DCB in the market for the stenotic fistula indication for hemodialysis patients.
Further, Bard has completed the enrollment for its Lutonix below-the-knee trial in January 2018 and anticipates PMA (premarket approval) submission by the end of 2018. Upon approval, BD would be the first company to receive the below-the-knee indication for its DCB device in the United States.
Medtronic (MDT) is also undergoing study for the evaluation of below-the-knee peripheral arterial disease treatment using its DCB technology.
2018 anticipated launches
Bard recently received PMA approval for its 5French ProSeries LifeStent platform, which was launched in Europe in mid-2017. BD expects to launch the product in the United States in the next few months.
According to BD, "This new launch also expands our 5French ProSeries of chronic total occlusion, percutaneous transluminal angioplasty and drug coated balloon products to a full suite of peripheral arterial disease tools that are 5French compatible."
BD also expects the launch of Bard's Covera with the AV (arteriovenous) access graft indication in the United States by the end of fiscal 2018.