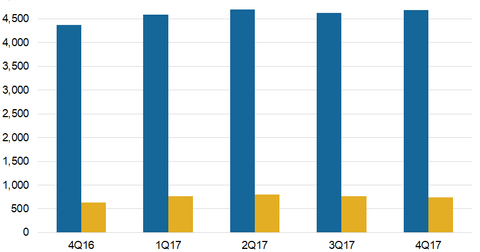 Banks Aim to Garner More Assets in 2018 on Equities and Treasuries
By Robert Karr

Updated
Asset management trends
The global stock markets are in a correction and consolidation mode. This trend has resulted in lower returns for equities and shifting investments from equities to alternatives such as real estate. The expectation of higher rates has also led to a withdrawal of funds from debt offerings, which has led to higher yields on bonds. 
Commercial banks (XLF) generated strong returns on equities and garnered new flows throughout each quarter in 2017. However, this trend could change in 2018 as the first quarter has seen withdrawals from select pockets and asset classes.
Article continues below advertisement
Valuations of broad indexes are on the higher side amid expectations of strong global growth. Corrections are being triggered due to rate hike expectations. The fiscal deficit is expected to rise for the US in fiscal 2018 amid lower tax rates, and investors are concerned that inflation risks could lead to faster rate hikes.
Bank of America's (BAC) Asset Management division saw 17.0% growth in net income to $742.0 million in 4Q17. This growth was due to higher revenues and lower spending. The bank is managing ~$2.8 trillion across its asset classes and regions, representing 10.0% YoY (year-over-year) growth on new flows and the appreciation of holdings.
Inflow trend
JPMorgan Chase's (JPM) Asset Management segment managed $2.0 trillion on December 31, 2017, representing 15.0% growth over the same period in 2016. This trend was helped by inflows and asset appreciation. In 4Q17, this division added new flows of $30.0 billion in long-term products and $10.0 billion in liquidity products.
JPM's Asset Management segment saw 12.0% growth in its net income at $654.0 million in 4Q17. Its pretax margin remained at similar levels of 30.0%.
Banks are facing competition from traditional and alternative asset managers such as BlackRock (BLK) and State Street Advisors (STT) for new fund flows in 2018. Low-cost products such as ETFs are attracting the highest amount of funds among the other product categories.