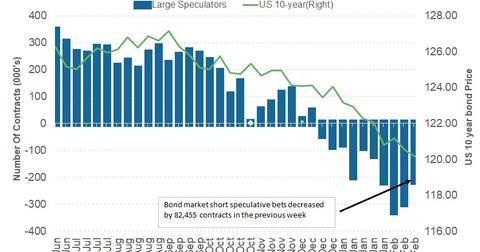 Are Bond Market Investors Finding Value in Distress?
By Ricky Cove

Updated
Are bond bulls emerging from their hideouts?
The US bond markets managed to gain some lost ground as bond bulls reemerged. The key focal point of bond traders was the FOMC meeting minutes, where the FOMC members were concerned about inflation, but they weren't sure about inflation drastically increasing. In an initial reaction to the minutes, the ten-year US bond yield touched the crucial technical level of 3.95% but failed to rally above that level. A breach of 2.95% could open the doors for 3% yield on the ten-year bond, which could be another trigger for anxiety among financial market investors. The huge Treasury auction of $260 billion last week was also absorbed without much volatility, indicating that there is still demand from bond buyers. The Vanguard Total Bond Market (BND) ETF, which tracks the performance of the bond markets, ended the previous week at 79.6, posting a minor loss for the week ending February 23.
Article continues below advertisement
Bond market performance and speculator positions
For the week ending February 23, the ten-year yield (IEF) tested 2.94% after the release of the FOMC minutes but settled at 2.86% at the end of the week. The two-year yield (SHY) closed at 2.24% (up by five basis points), and the longer-term 30-year yield (TLT) closed at 3.2% (up by two basis points).
According to the Chicago Futures Trading Commission's latest commitment of traders report released on February 23, speculator short positions decreased for a second consecutive week. The total net bearish positions as of Tuesday, February 20, decreased by 84,455 contracts from 296,935 contracts to 214,480 contracts. A decrease in bearish positions is an indication that bond market bulls are getting back into the action.
The week ahead for the bond markets
The focus of bond market investors is likely to be on the testimony of Fed chair Jerome Powell to the congressional committee on the state of the US economy. Markets would look for hints about future rate hikes, especially after the January meeting minutes signaled further rate hike possibilities. If the testimony turns out to be hawkish, we can expect bond yields to shoot up again. As we approach the 3% yield for the ten-year bond (BSV), there could be strong resistance, as the bond yield rally is being driven by expectations.