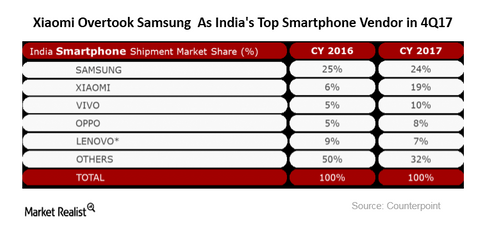 Why Apple Recently Raised Device Prices In India
By Ruchi Gupta

Updated
Apple Watch price up 7.9%
Apple (AAPL) recently raised prices on almost all of its devices in India, by 3.0%–8.0%. With that move, the price of a 256 GB (gigabyte) iPhone X jumped to almost $1,700 from $1,650. The same model costs about $1,150 in the United States.
Apple's price increases in India affected models from the iPhone 6 to the iPhone X, with iPhone prices rising between 2.0% and 3.9%. The price of the modestly priced iPhone SE, which is produced in India, was not changed. Apple also raised the price of its Apple Watch, by 7.9%.
Article continues below advertisement
Tax on imported phones hiked
Apple's device price hikes in India followed a move by the country's government to raise customs duty on imported mobile phones to 20% from 15%. The new import duty rates will come into force in April. The latest hike was unveiled in India's annual budget presentation. In December, the Indian government raised customs duty on imported mobile phones to 15% from 10%. The move to raise duty on imported products is part of the Indian government's "Make in India" initiative, which is focused on promoting local manufacturing to create jobs.
Almost all iPhones in India are imported
Since Apple imports almost 90% of the devices it sells in India, the import duty is expected to have a significant impact. Alphabet's (GOOGL) Google is another phone importer in India. BlackBerry (BB) and Nokia (NOK) have local manufacturing arrangements in India. While raising prices might help Apple reduce the impact of the duty hike, higher iPhone prices could make it difficult for the company to compete with Samsung (SSNLF) and Xiaomi in India's smartphone market.