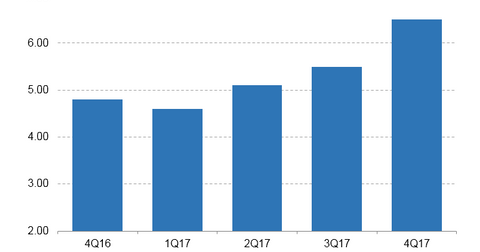 Why Alphabet's Traffic Acquisition Costs Are Causing Jitters
By Neha Gupta

Updated
TAC rose 33%, faster than revenue
For Alphabet (GOOGL), Facebook (FB), Amazon (AMZN), and eBay (EBAY), total costs and expenses rose year-over-year (or YoY) in 4Q17. But for Alphabet, the parent of Google, there's an expense that has become of significant interest to investors. That expense is TAC (traffic acquisition costs).
TAC measures how much Google pays its partners for direct use of its search engine. These partners include smartphone manufacturers that include Google as the default search engine on their devices. Google is battling for Internet search engine market share with the likes of Microsoft (MSFT), Yahoo, and China's Baidu (BIDU).
In 4Q17, Alphabet's TAC was $6.5 billion, representing an increase of 33% YoY. TAC rose faster than Alphabet's revenue, which rose 24% YoY.
Article continues below advertisement
24% of Google ad revenue was spent on TAC
TAC outpaced revenue growth in 4Q17, but it also claimed a larger share of Google's advertising revenue. Alphabet spent 24% of Google's ad revenue on TAC in 4Q17 compared to 22% in 4Q16.
Rising TAC was one of the reasons Alphabet's operating expenses in 4Q17 rose 27% YoY to $24.7 billion and in the end squeezed its profit margin. The company's profit margin fell to 24% in 4Q17 from 25% in the year-ago quarter.
Google depending on others to generate ad revenue
Alphabet executives have explained that rising TAC is due to the company generating most of its revenues on mobile devices, which have higher TAC. However, some investors worry that rising TAC may be a signal that Google is becoming more dependent on other companies to help it generate advertising revenues.
Google contributes nearly 99% of Alphabet's revenue. More than 85% of Google's revenue comes from advertising.