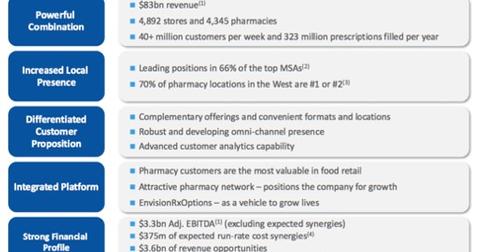 Albertsons-Rite Aid Deal: What to Expect from Combined Entity
By Sonya Bells

Updated
More about the two companies
As discussed in part one of the series, Albertsons and Rite Aid (RAD) entered a definitive merger agreement on February 20, 2018. In the current part of the series, we'll discuss the highlights of the combined company and take a look at the two companies individually.
Article continues below advertisement
The combined company
The proposed transaction would create a company that is projected to generate $83 billion in total sales and ~$3.7 billion (including run rate cost synergies) in adjusted EBITDA during the first year.
Its operations would include 4,892 stores including 4,345 pharmacies. It's estimated to serve more than 40 million customers per week and would fill 323 million prescriptions per year.
About Albertsons Companies
Idaho-based Albertsons is among the largest food and drug retailers in the United States. It operates more than 2,300 stores across 35 states and the District of Columbia under 21 banners including Albertsons, Safeway, Jewel-Osco, Shaw's, and Tom Thumb.
The company operates 1,700 in-store pharmacies and 400 fuel centers. It clocked total sales of $61 billion over the last 12 months (or LTM). It serves 34 million customers per week. The company is privately held by an investment consortium led by Cerberus Capital Management.
About Rite Aid
Pennsylvania-based Rite Aid operates more than 2,500 drugstores in 29 states. It also owns a PBM (pharmacy benefit manager) business through Envision Pharmaceutical Services, which it purchased in 2015 for ~$2 billion. The company recorded TTM sales of $29 billion and has a market capitalization of $2.4 billion as of February 20. It serves 7 million customers per week and fills 221 million prescriptions each year.
Rite Aid is America's third-largest pharmacy chain though it's smaller than competitors CVS Health (CVS) and Walgreens Boots Alliance (WBA), which operate less than 10,000 stores each in the US.