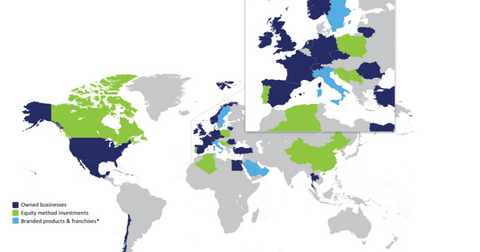 Would Acquiring AmerisourceBergen Make Sense for Walgreens?
By Sonya Bells

Updated
Why would Walgreens acquire AmerisourceBergen?
As discussed, The Wall Street Journal recently reported that Walgreens Boots Alliance (WBA) is in acquisition talks with AmerisourceBergen (ABC). The deal, if proposed and completed, would combine America's largest pharmacy chain (by drugstore count) with one of the largest drug distributors in the country.

The significant deal would further consolidate the healthcare market. In December 2017, rival drugstore chain CVS Health (CVS) announced its acquisition of health insurer Aetna for $69 billion.
Article continues below advertisement
WBA's recent ventures
WBA has a good appetite for acquisitions. It was formed when pharmacy giant Walgreens acquired Alliance Boots in 2014. While Walgreens had major pharmacy operations in the United States, Boots Alliance had a vast network of drugstore chains and drug wholesale and distribution mainly in Europe. In 2015, WBA struck an acquisition deal with rival Rite Aid (RAD) for $17 billion, acquiring close to 2,000 stores.
Why acquiring ABC makes sense for WBA
Acquiring Amerisource could vertically integrate Walgreens' business, thereby boosting its margins. According to Reuters, "Leerink analyst Ana Gupte said the Walgreens-AmerisourceBergen deal would be 'poised to improve the profitability of the drug store giant through purchasing power with generics and branded drug manufacturers.'"
The deal would also strengthen WBA's presence in the specialty pharmacy space, where the company still has limited exposure. ABC owns a large specialty drug business that distributes cancer medicines.
"As the broader healthcare sector focuses more on moving speciality drug administration out of facility-based (hospital/physician's office) settings, gaining a strong foothold in speciality through ABC could be a valuable strategic move," said Jefferies analyst Brian Tanquilut, according to Reuters.