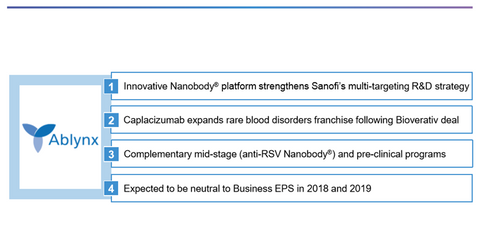 Ablynx Acquisition Strengthens SNY's Rare Blood Disorder Platform
By Sarah Collins

Updated
Company overview of Ablynx
Ablynx (ABLX) is a Belgium-based biopharmaceutical company engaged in the development and commercialization of nanobodies. Nanobodies are "proprietary therapeutic proteins based on single-domain antibody fragments, which combine the advantages of conventional antibody drugs with some of the features of small-molecule drugs."
Ablynx currently has more than 45 proprietary and partnered programs for the development of new treatments in the therapeutic areas of hematology, inflammation, respiratory disease, oncology, and immuno-oncology. The company has existing collaborations with a number of pharma giants, including Novartis (NVS), Merck & Co. (MRK), and AbbVie (ABBV). Ablynx is listed on Euronext Brussels and the NASDAQ. It employs more than 450 people and has more than 500 patents, some of which are pending.
Article continues below advertisement
How will Sanofi's Ablynx acquisition advance its rare blood disorders platform?
Sanofi (SNY) is focused on expanding its rare blood disorders portfolio to gain a leadership position in the market. Toward the same goal, the company entered into an agreement to acquire Bioverativ on January 22, 2018. The acquisition of Ablynx further advances Sanofi's goal because it offers a complementary portfolio: Ablynx's leading biologics platform, promising regulatory-stage asset caplacizumab, and a mid-stage asset for RSV (respiratory syncytial virus). According to Sanofi, Ablynx's caplacizumab is a particularly ideal fit for Bioverativ's hemophilia franchise.
Caplacizumab is a nanobody for the treatment of aTTP (acquired thrombotic thrombocytopenic purpura). The nanobody is filed in Europe and is expected to be filed in the United States in 1H18. It's expected to be a blockbuster drug, and it will be the first-in-class treatment for aTTP if it's approved.
Ablynx's ALX-0171, an inhaled anti-RSV nanobody, is one of the company's mid-stage assets. It's currently in Phase 2b and is a potential breakthrough treatment for RSV infection as no therapy for the infection is currently available in the market. The nanobody is highly complementary to Sanofi's Pasteur RSV programs.
The PowerShares BLDRS Developed Markets 100 ADR ETF (ADRD) holds ~2.2% of its total portfolio in SNY stock. Investors can consider investing in ADRD for diversified exposure to Sanofi.
In the next article, we'll discuss how Sanofi's Ablynx acquisition will advance its research and development strategy.