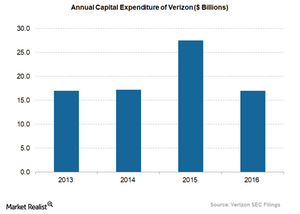 How Samsung Could Help Verizon Deliver 5G Commercial Services
By Sophia Nicholson

Updated
Verizon's contract with Samsung
Verizon (VZ) has selected Samsung to start its first commercial 5G fixed wireless services in Sacramento, California. Apart from California, Verizon has plans to roll out its 5G Internet services in as many as five US markets in the second half of 2018.
According to the contract with Verizon, Samsung plans to provide commercial 5G home routers, 5G radio access units (including a compact radio base station and virtualized RAN elements), and 5G radio frequency planning services. Verizon and Samsung plan to team up to develop the applications of Samsung's 5G technology.
Article continues below advertisement
5G customer trials were successful
Samsung partnered with Verizon in 2017 to support 5G customer trials in seven US cities in early 2017. The tests were conducted in California, Georgia, New Jersey, Massachusetts, Michigan, Texas, and Washington, DC, using millimeter-wave frequency to offer 5G fixed wireless precommercial service.
These tests resulted in crucial findings that helped shape the future of 5G. The tests showed that a single 5G radio could reach the 19th floor of a multi-dwelling unit.
Broadband services can be achieved with slight, partial LOS, and non-LOS connections. Tests showed that weather conditions such as rain and snow didn't interfere with 5G services.
In addition to Samsung, Verizon chose Ericsson (ERIC), Nokia (NOK), Cisco Systems (CSCO), and Intel (INTC) to provide networking equipment for its precommercial trials of its 5G initiatives.
Verizon's expense structure
Verizon (VZ) has been making planned investments to upgrade its network services, allowing the carrier to keep its expenses at a minimum level. The company's capex program is such that its 5G deployments aren't expected to erode its profits in 2018.