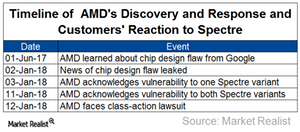 Will AMD's Earnings Feel the Heat of Spectre?
By Puja Tayal

Updated
Lawsuits
While Advanced Micro Devices (AMD) stock has risen—despite the revelation of the security flaws in its chip design—the company now faces a class-action lawsuit. The lawsuit accused AMD CEO (chief executive officer) Lisa Su and CFO (chief financial officer) Devinder Kumar of making materially false and misleading statements about the company's business, operational policies, and compliance policies and of artificially inflating its stock price by not disclosing the design flaw.
Article continues below advertisement
The lawsuit covers the period between February 21, 2017, and January 11, 2018, when AMD responded to the design flaw. It's not clear why the lawsuit did not come earlier, in June 2017, when Google informed AMD and Intel about the flaw, as AMD wouldn't have been aware of the flaw before June 2017. AMD is defending against these claims, calling them unfounded.
While AMD faced only one lawsuit, Intel (INTC) has faced many and is likely to face more in the wake of the design flaw news.
Impact of Spectre on AMD's earnings and operations
With lawsuits and performance slowdown concerns looming, the major question that's been arising in the minds of investors is how all this could impact AMD's earnings and operations. The design flaws will likely increase the two companies' operating expenses as both companies will likely have to handle lawsuits and develop software solutions.
AMD's and Intel's upcoming fiscal 4Q17 earnings should provide us with some insight on the revenue impact of major cloud companies like Google (GOOG) and Microsoft (MSFT), which had been previously aware of the design flaws. If this prevented them from purchasing more server CPUs (central processing unit) or switching from Intel to AMD, it will likely be reflected in the two companies' fiscal 4Q17 earnings.
In the case of AMD, any impact of Spectre will be visible if the fiscal 4Q17 earnings are less than the company's guidance, because fiscal 4Q is a seasonally slow quarter for the company as game console sales fade away. A 10%–15% sequential revenue decline is normal in fiscal 4Q.
However, AMD has improved its financial position in 2017 by expanding revenue, lowering debt, increasing cash reserves, and improving profit margins and cash flows. This puts it in a sound position to withstand the headwinds of Spectre.
In the next part, we'll see what investors can likely expect from AMD's fiscal 4Q17 earnings.