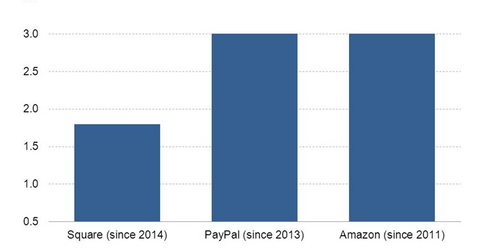 Why the PayPal–Synchrony Deal Isn't Closing until 3Q18
By Neha Gupta

Updated
A win-win
PayPal (PYPL) and Synchrony Financial (SYF) are portraying their consumer loans deal as a win-win deal. For PayPal, the sale of a portion of its credit business is expected to free up capital and lower the company's risk profile. PayPal is working to become a one-stop shop for financial services in the digital age.
Synchrony is hoping to access a highly engaged online consumer demographic in its purchase of PayPal's US (SPY) consumer loans business.
In November 2017, PayPal and Synchrony announced their agreement to trade consumer loans worth ~$6.0 billion. However, the transaction could take several quarters to close.
Article continues below advertisement
PayPal targeting July closing date
PayPal's chief financial officer, John Rainey, spoke at a recent Credit Suisse conference and shed some light on the timing of the PayPal–Synchrony deal. The deal is expected to close in 3Q18, and Rainey said that July 1 was the target date to finalize the transaction.
From PayPal's point of view, the timeframe is reasonable and it is comfortable with it. Rainey noted, "These deals can be complex, and there have been examples of others in the past that have gotten tripped up on this. This is a pretty large credit portfolio. It's a pretty complex process."
PayPal has written more than $3.0 billion in loans since 2013, while Amazon (AMZN) has written loans for about the same amount since 2011. Square (SQ) has written ~$1.8 billion in loans since 2014.