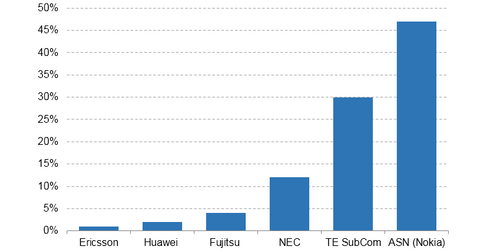 Who's Building Google's Undersea Cable System?
By Neha Gupta

Jan. 25 2018, Updated 7:31 a.m. ET
Google isn't spending on infrastructure
Google, whose parent company Alphabet (GOOGL) is set to release its 4Q17 earnings results on February 1, 2018, recently announced its plans to expand its cloud infrastructure. The company is planning to build three more undersea cable systems and activate five more cloud regions in the next two years.
Google has pumped $30 billion into cloud infrastructure development over the last three years, and it's not done yet. The laying of the three new marine cable networks is expected to cost the company hundreds of millions of dollars, and it's going to make some companies rich. Which companies will benefit from Google's cloud infrastructure budget?
Article continues below advertisement
Undersea cables carry over 90% of global data
Google tapped Japan-based (EWJ) NEC Corporation and TE SubCom to help it set up its new undersea cable systems. TE SubCom is a unit of TE Connectivity (TEL).
TE SubCom will particularly help with the laying of undersea cables connecting the United States (SPY) to Denmark and Ireland, a cable network that Google has dubbed Havfrue. Google is partnering with Facebook (FB) on the Havfrue subsea cable route, which is expected to be ready for use by the end of 2019.
Undersea cables are the backbone of the global Internet. They carry over 90% of the world's data traffic.
Over $8.0 billion in new submarine cables
Nokia, through its Alcatel Submarine Networks (or ASN) unit, is the world's leading supplier of undersea cable networks. Research company Terabit Consulting estimates that ASN controls roughly 47% of the undersea cable market, compared to 30.0% and 12.0%, respectively, for TE SubCom and NEC. Ericsson (ERIC) and Huawei control less than 3.0% of undersea cables.
Research company TeleGeography estimates that spending on the deployment of new undersea cable systems, such as what Google is undertaking, could top $8.0 billion in the next three years.
Nokia is reviewing the future of ASN. One of the options it's considering is selling the business.