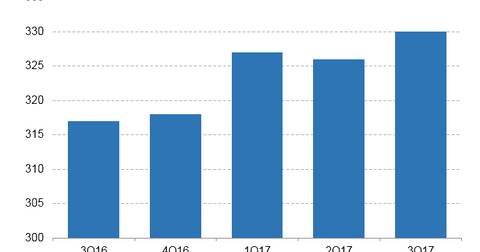 Where Twitter's Bookmarks Feature Fits
By Ruchi Gupta

Updated
Twitter doubled post character limit
Reports that Twitter (TWTR) has launched the trial of its Bookmarks feature show that the company may be on a path toward making good on its promise to bring a feature that its subscribers, especially those in Japan (EWJ), have apparently been requesting for a long time. Bookmarks, the feature (QQQ) whose test has begun among some Android users, now lets people quietly save tweets for later access.
Article continues below advertisement
Given Twitter's ambitions and some of the steps it's taken recently, Bookmarks could be a handy tool at this juncture to help expand the use of the company's services. Last year, Twitter doubled the length of posts allowed on its social media platform to 280 characters—up from 140 characters previously.
But with longer posts, some users might feel overwhelmed to keep up with what's happening on the platform, and the Bookmarks feature might just be what they need to make their time on Twitter easier.
Over 500 million logged-out audience
Twitter's goal is to grow its audience and use that to attract more advertising spending. In 2014, the company revealed that it had a monthly logged-out audience of more than 500 million people. These are people who perhaps don't have a Twitter account yet but still see value visiting the site.
The company said it was taking steps to monetize its huge logged-out audience, in addition to making changes designed to encourage them to get accounts and become logged-in users.
330 million MAUs
Since disclosing the 500 million logged-out users, Twitter has introduced new products or has modified existing ones to try to encourage more signups. Bookmarks could also go a long way in helping Twitter get more people to sign up for accounts.
The company closed 3Q17 with 330 million MAUs (monthly active users), which was roughly 4.0% higher year-over-year. Facebook (FB) ended 3Q17 with over 2.0 billion MAUs, while Snap (SNAP) has 178 million daily users on its Snapchat app.