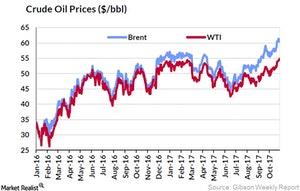 Week 1: Offshore Drilling Investors Rejoice as Oil Prices Spike
By Sue Goodridge

Updated
Oil spike drove offshore drilling rise
In the last article, we learned that all offshore drilling stocks rose in the week ended January 5, 2018. The main reason for this rise was the spike in oil prices.
Article continues below advertisement
Oil prices
In the last week, crude oil prices have risen to a three-year high. Antigovernment protests in Iran and a blast of cold weather raised concerns about potential supply disruptions. January 3, 2018, marked the sixth consecutive day of Iranian protests, during which more than 20 people died.
On January 3, Brent crude oil prices traded at $67.93 per barrel, and West Texas Intermediate jumped to a high of $61.8 per barrel. 
Importance 
Capital budgets for E&P (energy and production) companies are based on expectations for future crude oil prices, their current profitability, and the availability of free cash flow. As crude oil prices have risen, so has the hope that oil companies will increase their capital expenditure. As capital spending increases, demand should also increase.
Article continues below advertisement
Forecast
On January 4, 2018, Reuters took a poll of 32 analysts and economists. According to the poll, the estimated WTI price for 2018 will be $55.78 per barrel. This is higher than the previous forecast of $54.78 per barrel. The EIA (U.S. Energy Information Administration) has also increased its forecast for both Brent crude oil and WTI. According to the EIA, Brent crude oil prices will average $60 per barrel in 2018, and WTI crude oil will average $4 per barrel less than Brent crude oil.