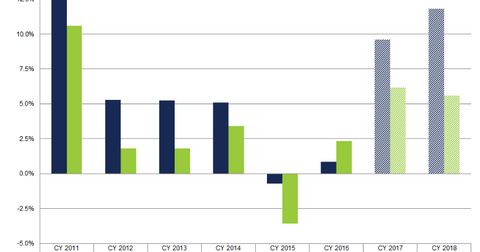 Warren Buffett: Tax Reform Is Very Bullish for the Stock Market
By Sarah Sands

Updated
Warren Buffett in an interview with CNBC
On Wednesday, January 10, 2018, Warren Buffett shared his views on how tax reform will benefit the stock market and his opinion on cryptocurrencies in an interview with CNBC.
Warren Buffett on tax reform
Warren Buffett believes that tax reform is very bullish for the stock market (SPX-INDEX) (COMP-INDEX). He said, "The tax act is a huge factor in valuation. You had this major change in the silent stockholder in American business who has been content with 35%…and now instead of getting 35% interest in the earnings they get a 21% and that makes the remaining stock more valuable."
The reduction in the corporate tax rate will likely add more value to the equity market. It's also changing earnings projections. US businesses, which paid nearly 35% in tax in the past years, now will pay less tax, and they can use the savings to expand their existing capacity and pay dividends to shareholders.
According to a recent Factset report, the S&P 500 Index (SPY) could post double-digit earnings growth of 11.8% in 2018. The tax reduction could boost earnings growth even higher in 2018. Sectors such as financials (XLF), materials (XLB), and energy (XLE) could add more value to the earnings of the S&P 500 Index in 2018.
Buffett also believes that the huge reduction in the corporate rate still isn't reflected by equity market valuations yet. He said, "I think 21 percent was not baked in. That's a huge reduction."
In the next part of this series, we'll analyze Warren Buffett's largest holdings in 3Q17.