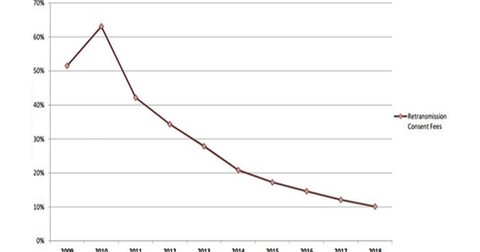 Why Did Verizon Renew Deal after Altice Dropped Starz Channels?
By Sophia Nicholson

Updated
Verizon renews deal with Starz channels
Telecom giant Verizon (VZ) has inked a multiyear agreement with premium cable network Starz to distribute the latter's channels on its Fios TV service. Although the deal's financials were not disclosed, Verizon would offer the Lionsgate-owned Starz's content, including premium pay-TV channels, on-demand, and online services.
Referring to Verizon, Starz's COO, Jeffrey Hirsch, stated, "They are an industry leader in offering the best video content for its Fios TV customers, and we look forward to working with them to enhance the premium experience for their Starz and Starz Encore subscribers."
Article continues below advertisement
Altice drops Starz channels
The Verizon-Starz deal comes after 17 Starz channels, including the StarzEncore and MoviePlex premium channels, were removed from Verizon's rival Altice US's Optimum cable services, as a result of the failed renewal deal.
Starz had an agreement with Altice, which was not renewed within the deadline and as a result, expired on December 31, 2017. According to news reports, cable operator Altice said Starz wanted higher rates for its channels that would result in charging customers more than Starz's standalone streaming service costs.
Starz claimed that Altice wanted to slash the prices it pays for Starz channels, as viewers can subscribe to Starz's over-the-top streaming services.
Carriage fee dispute
Recently, there have been conflicts between TV broadcasters and pay-TV operators related to retransmission and carriage fees. In October 2017, Altice came to an agreement with The Walt Disney Company (DIS) about the dispute over channel carriage and retransmission fees.
Viacom and Charter Communications (CHTR) are still holding discussions to reach a resolution. In November 2017, DISH Network (DISH) inked a multiyear program licensing deal with CBS (CBS) after resolving a three-day blackout.
According to a report from the National Association of Broadcasters, the year-over-year growth in retransmission fees is expected to slow to 10.0% by 2018.