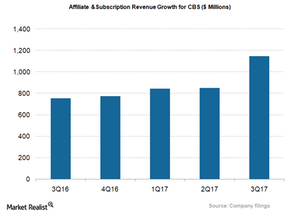 Why Affiliate Revenues Remain Crucial for CBS
By Aaron Hemsworth

Jan. 9 2018, Published 11:41 a.m. ET
Growth in affiliate and subscription fees
Media conglomerate CBS (CBS) reported 3Q17 financial results that showed that its overall revenues rose 2.8% YoY (year-over-year) to nearly $3.2 billion, driven by a whopping 52% YoY growth in affiliate and subscription fees.
The affiliate and subscription fees business, which constitutes nearly 36% of CBS's total revenues, posted its highest revenues in the past six quarters at $1.1 billion. Notably, its advertising and content licensing and distribution businesses reported YoY declines of 4.8% and 22.4%, respectively.
In the graph above, you can see that the affiliate and subscription fees revenues grew at a CAGR (compound annual growth rate) of 11% over the past five quarters, compared with its advertising and content licensing revenues, which declined at a CAGR 14.7% and 6.1%, respectively.
Article continues below advertisement
Reasons for growth
Such a strong performance of the affiliate and subscription fees business was mainly driven by a huge demand for the pay-per-view fight between Floyd Mayweather and Conor McGregor on Showtime, contributed to huge growth in its 3Q17 revenues. The company's Cable Networks segment also benefitted from the event and posted 40.5% YoY growth in revenues in 3Q17.
Apart from Showtime, CBS All Access, the Showtime streaming subscription service, and third-party live television also supported affiliate revenue growth in the reported quarter.
In 3Q17, the company's affiliate and subscription revenue growth also outpaced other big media players, including Time Warner (TWX), Twenty-First Century Fox (FOXA), and Viacom (VIAB). Time Warner and Fox reported YoY growth of 12.5% and 10.7%, respectively, while Viacom posted a 1% decline for the same period.