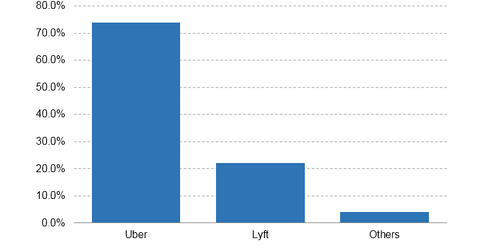 Snapchat, Uber, and Airbnb Have Inspired Facebook
By Neha Gupta

Oct. 29 2019, Updated 9:38 p.m. ET
Facebook said to have looked into Snapchat for features ideas
Snapchat, the photo-sharing app operated by Snap (SNAP), has been an inspiration for Facebook (FB), especially in determining what Millennial social media users want. Facebook was reported as copying popular Snapchat features and making them available to users across its digital platforms such as Instagram and WhatsApp.
For Facebook, mimicking Snapchat features has been tied to efforts to keep its subscribers from defecting to rival platforms. Snapchat, with its once-distinctive disappearing post feature, appeals largely to younger users.
Article continues below advertisement
Facebook also impressed by Uber, Airbnb strategies
However, Snapchat is not the only smaller Internet company whose strategies Facebook has found compelling. The social media giant has also admired the strategies of companies such as Airbnb and ride-hailing company Uber.
Speaking at a recent Wells Fargo technology summit, Facebook's chief marketing officer, Gary Briggs, mentioned Airbnb and Uber as two companies that have had great marketing strategies. Briggs commented that Airbnb has done an exemplary job in brand positioning and that has seen it become a "much more respected brand."
For Facebook, Airbnb is becoming a world-class user of its platform to connect with customers. Facebook, Alphabet's (GOOGL) Google, Twitter (TWTR), and Snap generate their revenues primarily from providing digital advertising services for brands.
Uber has firm grip on US ride-hailing market
Uber is the leading ride-hailing provider in the US (SPY) market. Analytics firm Second Measure estimates that Uber controls 74% of the US ride-hailing market, leaving rivals like Lyft and Gett (GetTaxi) to share the remaining 26% of the market.
Alphabet's Waymo unit is also eyeing the ride-hailing market, which investment bank Goldman Sachs (GS) predicts could be worth $285 billion in revenues globally by 2030.