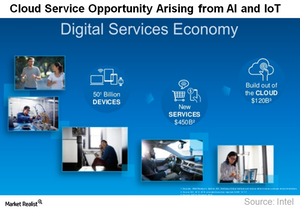 The Role of Cloud and Data Center in the Artificial Intelligence World
By Puja Tayal

Jan. 25 2018, Updated 10:31 a.m. ET
Data center trends
Almost all electronic devices generate data. This data isn't useful if it isn't processed and used to get insights for future action. The advent of IoT (Internet of Things) has made it possible to collect all types of data for almost all activities.
AI (artificial intelligence) has made it possible to use this data to train machines for particular tasks, recognize speech and images, and enable cars to drive themselves.
Article continues below advertisement
Cloud services are the future
The basis of AI and IoT is data, which cloud companies realize. These companies have been using AI to make use of the data stored in data centers to optimize tasks and improve performance. For example, Amazon Web Services (AMZN) is using NAND (negative AND) solutions to access data more quickly in order to provide faster e-commerce solutions.
Cloud companies decided to pass on the benefit of AI to other businesses as well. They are expanding their businesses by providing various services in the cloud such as GPU-as-a-service and software-as-a-service.
In these instances, a user rents cloud space and can use the GPU or software in the cloud without having to bear the expense of hardware. Users would be able to access their work from any device.
The benefits of this virtual office saw many enterprises move to the cloud, which shifted the demand for server and memory away from enterprises to the cloud.
At NASDAQ's 37th Investor Conference, Micron's (MU) CFO, Ernie Maddock, stated that he expects the industry DRAM[1. dynamic random access memory] demand to increase 20%–25% in the next few years. Server DRAM demand is expected to increase 30% and cloud demand is expected to increase 40%.
Increasing capital sending in server space 
The increasing adoption of IoT and autonomous cars is expected to increase demand for the data center, as all applications on these devices are supported by data centers. So, cloud and hyperscale companies are increasing their capital spending by 30% in 2018.
Numerous semiconductor companies are launching advanced server processors that are expected to meet future data needs. Intel (INTC) is ramping up its Skylake server processor, and Advanced Micro Devices (AMD) is ramping up its EPYC server processor. Qualcomm (QCOM) has also entered this market with its ARM-based Centriq server processors.
Growth in the traditional server processor market has slowed. However, demand is picking up in other areas such as accelerators for GPUs (graphics processing units) and memory content per server.
Next, we'll see how Micron Technology could benefit from this data center trend.