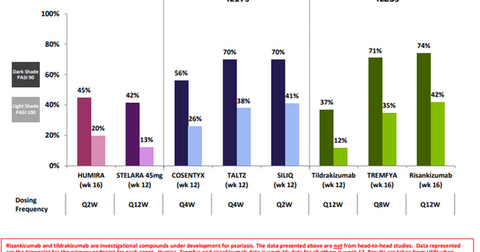 Risankizumab Expected to Emerge as a Robust treatment Option for Psoriasis Patients
By Margaret Patrick

Updated
Risankizumab clinical trial data
On March 7, 2016, AbbVie (ABBV) entered into a global collaboration with Boehringer Ingelheim for the development and commercialization of Risankizumab.
On October 26, 2017, AbbVie announced positive results from three pivotal phase-3 trials that compared the efficacy of investigational interleukin-23 (IL-23) inhibitor, Risankizumab, with standard biologic therapies, Johnson & Johnson's (JNJ) Stelara (ustekinumab) and Humira (adalimumab) in moderate to severe chronic plaque psoriasis indications.
After 16 weeks of treatment, a 150 mg dose of Risankizumab managed to demonstrate significant skin clearance, measured through metrics such as 90% improvement in the psoriasis area and severity index and static physician global assessment score of clear or almost clear.
Notably, AbbVie makes up about 0.67% of the Vanguard S&P 500 ETF's (VOO) total portfolio holdings.
Article continues below advertisement
Comparative efficacy in psoriasis patients
At end of week 12, Johnson & Johnson's (JNJ) Stelara 45 mg dosage achieved PASI90 in 42% patients and PASI100 in 13% patients, while Novartis' (NVS) Cosentyx achieved PASI90 in 56% patients and PASI100 in 26% psoriasis patients. At end of 12 weeks, Eli Lilly's (LLY) Taltz also reached PASI90 in 70% patients and PASI100 in 38% psoriasis patients.
Compared with these, almost 74% patients achieved PASI90 while 42% achieved PASI100 when dosed with Risankizumab after 16 weeks of therapy. Besides efficacy, Risankizumab may also benefit commercially due to its highly convenient quarterly dosing, especially due to increased adoption by those patients who prefer less frequent dosing regimens.
AbbVie expects to witness additional data from its pivotal program evaluating Risankizumab in a psoriasis indication in 2018. The company also plans to file a new drug application for Risankizumab with the FDA (US Food and Drug Administration) in 2018 and anticipates commercial launch of this drug by 2019.
In the next part, we'll discuss AbbVie's efforts to expand Risankizumab's label in greater detail.