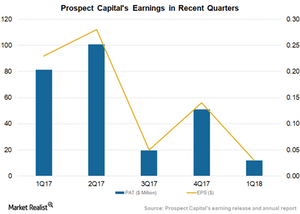 Prospect Capital: Impact of Macro Policy Decisions, Reforms
By Robert Karr

Dec. 4 2020, Updated 10:53 a.m. ET
Lower taxes
Congress passed its tax reform bill in December 2017, lowering the corporate tax rate from 35% to 21% and allowing for windfall gains for companies. However, Prospect Capital (PSEC) is registered as a business development company (or BDC), which means that if it pays 90% of its profits in dividends, it won't have to pay any taxes. So there won't be any windfall gain for BDCs (PEX). The company would only benefit to the extent of its equity investments that could command higher dividends.
Article continues below advertisement
Higher interest rates
The Trump administration is also pushing for domestic manufacturing and higher exports. Overall, the monetary policy is hawkish considering the Fed's indication of three interest rate hikes in 2018. Demand for lending is expected to remain upbeat due to domestic manufacturing, partially offset by an urge to borrow at higher rates. The Fed is targeting an interest rate of 2.25% by the end of 2018 compared to 1.5% as of December 2017. Higher interest rates have impacted Prospect Capital and its peers Ares Capital (ARCC), BlackRock Capital (BKCC), and Apollo Investment (AINV) with lower yields.
The yield curve is expected to be narrow in the first half of 2018. However, it could stabilize in the second half of 2018 and rise in 2019, depending on further indications of a rate hike by the Fed.