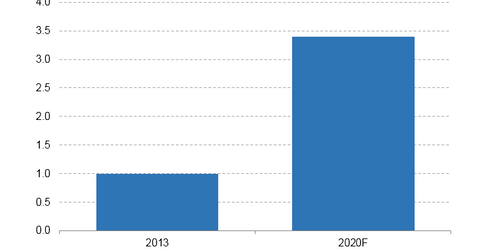 Oracle Coverts Rival DataStax into an Ally
By Ruchi Gupta

Updated
DataStax plugs into Oracle cloud
Oracle (ORCL) is partnering with database company DataStax in a move that signals a shift as the company converts a rival into an ally. DataStax is a provider of so-called NoSQL databases, which are considered more flexible than traditional databases such as Oracle's MySQL, Microsoft's (MSFT) SQL Server, and IBM's (IBM) DB2.
The partnership involves DataStax bringing its DataStax Enterprise (or DSE) to Oracle's managed services environment. According to DataStax's CEO, Billy Bosworth, in a recent statement, the integration will enable enterprises to easily manage massive amounts of operational data on Oracle Cloud.
Article continues below advertisement
Oracle taps into disruptive database technology
For Oracle, the partnership seems to provide it with a disruptive technology with an attractive revenue potential, while DataStax gets to increase its exposure to large enterprises.
Consultancy company Market Research Media forecasts that the global NoSQL database market will grow at an average annual rate of 21% between 2015 and 2020 and that the market should expand to $3.4 billion by 2020. The NoSQL database market was estimated to be less than $1.0 billion in 2013.
Protecting against operational disruptions
DataStax says that its NoSQL technology helps big companies keep their operations running without hiccups even when some of their data centers go down in part of the world. It also says that it helps companies minimize their costs, saying that Cisco Systems (CSCO) saves $24 million in material costs by taking advantage of its database solutions to automate interactions with suppliers and partners.
DataStax counts online video provider Netflix (NFLX), QuickBooks maker Intuit (INTU), and e-commerce provider eBay (EBAY) among its more than 400 customers.