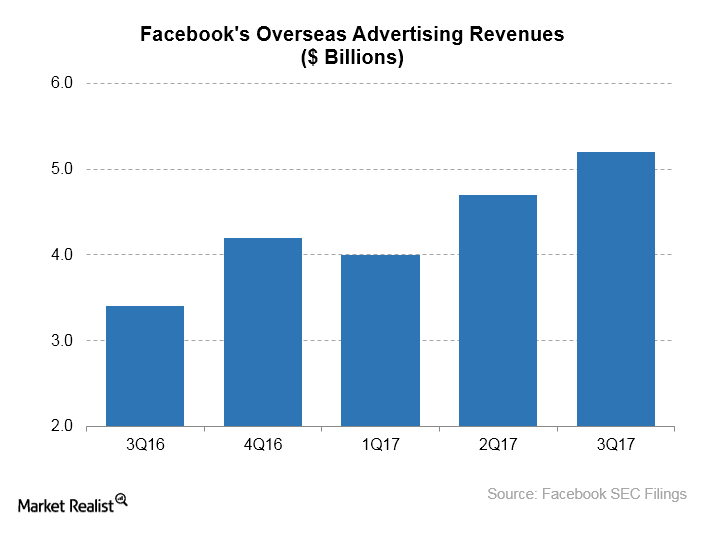 How Offshore Expansion Is Testing Facebook
By Neha Gupta

Dec. 4 2020, Updated 10:53 a.m. ET
Facebook penetration varies by regions
With the exception of China (MCHI) and North Korea, Facebook's (FB) social media services are available worldwide, giving the company a global subscriber base of ~2.0 billion users. Twitter (TWTR) counted 330.0 million monthly subscribers worldwide at the end of 3Q17, while Snap (SNAP) counted 178.0 million daily users worldwide on its Snapchat platform at the end of 3Q17.
Although Facebook (FB) is available worldwide and has a much larger audience size than its competitors, its penetration varies in different regions. This trend explains why the company has come up with initiatives such as Aquila to deepen its penetration, especially in emerging markets (EEM).
Billions of potential subscribers to Facebook services in the developing world are offline because they lack access to Internet connections. Even those users who connect to Facebook from the developing world have a poor experience with the service because of slow Internet speeds.
Article continues below advertisement
Bringing the world online
Through the Aquila project, Facebook is working to expand Internet access in the developing world. The Aquila project uses solar-powered drones to bring more people online, which could attract them to its services.
Alphabet (GOOGL), the parent of Google, offers Project Loon. Project Loon is a similar global Internet accessibility initiative that uses specially designed large balloons to spread Internet connections to unserved or underserved geographies.
Facebook facing regulatory and cultural tests
However, connecting the world is not the only challenge Facebook faces in its overseas expansion. Speaking at a Wells Fargo technology conference, Facebook's chief marketing officer, Gary Briggs, cited different regulatory regimes and cultural norms associated with content as among its challenges in seeking deeper penetration overseas.
Facebook generated 51.5% (or $5.2 billion) of its advertising revenues in 3Q17 from overseas markets. Overseas markets represented 50.0% of its advertising revenues in 3Q16.