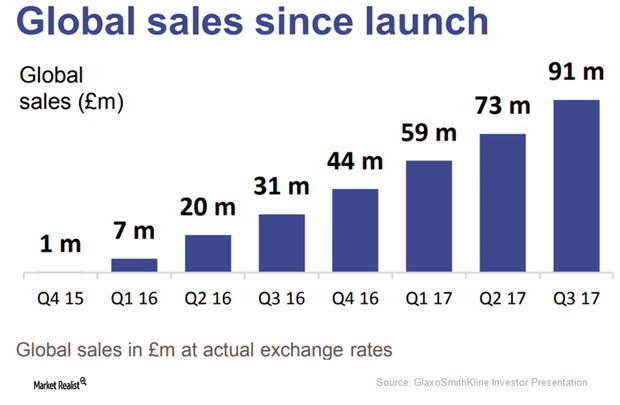 Nucala May Be a Game-Changing Product in Respiratory Segment
By Margaret Patrick

Jan. 30 2018, Updated 6:00 p.m. ET
Nucala FDA approvals
On November 4, 2015, the U.S. Food and Drug Administration (or FDA) approved GlaxoSmithKline's (GSK) interleukin-5 antagonist monoclonal antibody, Nucala, as maintenance therapy for severe eosinophilic asthma patients who have been previously treated with other asthma medications and are 12 years or older.
On December 12, 2017, the FDA expanded Nucala's label and approved the therapy for patients suffering from eosinophilic granulomatosis with polyangiitis (or EGPA). This disease was also known as Churg-Strauss syndrome. According to GlaxoSmithKline's press release, "Eosinophilic granulomatosis with polyangiitis is a chronic rare disease that is caused by inflammation in the walls of small-to-medium sized blood vessels (vasculitis)." The company estimates that around one to four out of a million people are diagnosed with this condition annually. Notably, GlaxoSmithKline makes up about 1.4% of the Vanguard International High Dividend Yield ETF's (VYMI) total portfolio holdings.
Article continues below advertisement
The above diagram shows the growth trajectory for Nucala's global revenues after its launch in 4Q15. Nucala has witnessed a significantly higher revenue growth rate in the US market in the second year of the launch than Novartis's (NVS) and Roche Holdings' (RHHBY) Xolair in the second year of its commercial launch.
Nucala clinical trial data
On March 6, 2017, GlaxoSmithKline announced positive results from the MUSCA study, which demonstrated the superiority of a combination of first-in-class biologic Nucala, and standard of care as compared to only standard of care in improving quality of life and lung function in severe eosinophilic asthma patients.
On March 5, 2016, GlaxoSmithKline reported favorable results from the open label COSMOS study, which highlighted the long-term efficacy and safety of Nucala in terms of reducing risk of exacerbations, improved asthma control, and reducing the dosage of oral corticosteroid in severe eosinophilic asthma patients.
On March 7, 2016, the company announced favorable results from the post-hoc study that highlighted the significant improvement in exacerbation rates demonstrated by severe asthma patients across the various groups stratified by eosinophil levels when treated with Nucala.
Nucala is thus playing a pivotal role in enabling GlaxoSmithKline to compete effectively with other respiratory players such as Teva Pharmaceuticals (TEVA) and Mylan.
In the next article, we'll discuss GlaxoSmithKline's human immunodeficiency virus (or HIV) portfolio in greater detail.