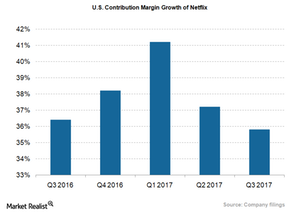 Will Netflix's Declining US Contribution Margin Continue in 4Q17?
By Aaron Hemsworth

Updated
A look at contribution margin trend for the International segment
Stiff competition in the United States has allowed video streaming leader Netflix (NFLX) to set a lower contribution margin target in 4Q17. It expects the margin in the upcoming quarter to remain at 34.4%, which would be lower than the last five quarters.
From the graph above, we can see the US contribution margin growth in the last five quarters. The margin shows a declining trend in the last five quarters due to an increase in programming expenses as well as a rise in marketing costs.
Article continues below advertisement
Content costs, which comprise the bulk of costs, increased $335 million in 2016, driven by higher original content expenses. Marketing costs, which include advertising and content promotion expenses on various platforms, also showed an increasing trend. Content and marketing costs increased YoY (year-over-year) 31% and 20%, respectively in 2016.
However, the company expects to exit 4Q17 with a contribution profit of $556 million, a 4% rise YoY and slightly above its 3Q17 profit of $554 million.
Reason for declining trend in margins
Despite growth in domestic revenue, driven by an increase in rates and total paid membership growth in the United States, the contribution margin improvement looks soft. Higher content and marketing expenses continue to offset margin growth.
The domestic market is also getting overcrowded with the increase of OTT (over-the-top) services offered by video streaming operators such as YouTube TV (GOOGL), Amazon Prime Video (AMZN), HBO Now (TWX), and Hulu.