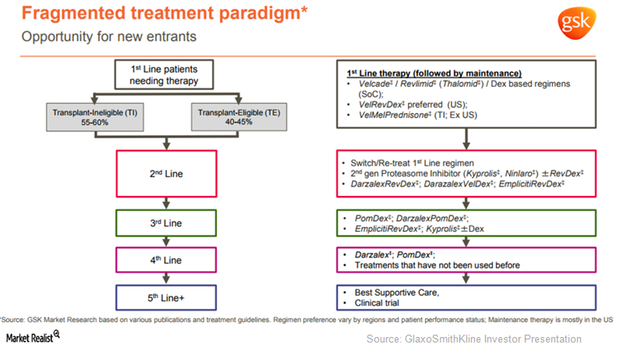 Multiple Myeloma May Be Strong Growth Area for GlaxoSmithKline
By Margaret Patrick

Feb. 5 2018, Updated 7:30 a.m. ET
Multiple Myeloma growth drivers
GlaxoSmithKline (GSK) estimates that almost 65% of the global multiple myeloma (or MM) drug sales are realized in the US. The demand in the MM segment is mainly driven by the aging population, which has resulted in rising annual incidence by around 2% for the disease. Additionally, the availability of novel and highly effective drugs and increasing market adoption of these therapies has resulted in patients being treated for longer periods of times across multiple lines of treatment.
Article continues below advertisement
Currently, Johnson & Johnson's (JNJ) anti-CD38 monoclonal antibody, Darzalex (daratumumb) is witnessing rapid uptake in the MM segment due to its higher efficacy as compared to the previous standard of care therapy. This changing trend has also increased interest in other new treatment modalities, pathways, and oncology targets. Additionally, there has also been an increasing interest in exploring various combination regimens to treat MM patients. These trends may play a pivotal role in increasing acceptance for novel therapies after their commercial launch. GSK 916 could enable GlaxoSmithKline to compete effectively with established MM players such as Novartis (NVS) and Celgene (CELG).
The above diagram shows the fragmented treatment paradigm in the MM segment, which has opened up an opportunity for novel therapies such as GSK 916 and CAR-Ts.
Transaction with Novartis
In the three-part transaction with Novartis concluded in March 2015, GlaxoSmithKline divested its marketed oncology portfolio for a consideration of about $16.0 billion. However, the company retained its oncology research and development (or R&D) pipeline, which was then mainly in discovery stage. The evolution of this pipeline has enabled GlaxoSmithKline to currently focus on three main areas such as immunooncology, cell and gene therapy, and cancer epigenetics. GlaxoSmithKline aims to develop oncology drugs capable of increasing overall survival as well as even curing patients.
Notably, GlaxoSmithKline makes up about 0.83% of Vanguard FTSE Developed Markets ETF's (VEA) total portfolio holdings.
In the next article, we will discuss GlaxoSmithKline's oncology portfolio in greater detail.