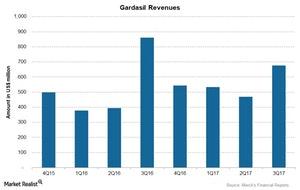 Merck & Co.'s Human Vaccines Business in 3Q17
By Mike Benson

Jan. 19 2018, Updated 9:05 a.m. ET
Gardasil franchise
Merck & Co.'s (MRK) Gardasil franchise includes vaccines for the prevention of certain strains of sexually transmitted human papillomavirus (or HPV) infections. These strains include cervical cancer and other forms of cancers, including anal cancer, penile cancer, vaginal cancer, genital warts, and vulvar cancer induced by HPV.
The above chart compares the revenues for Gardasil for the past eight quarters.
Article continues below advertisement
Gardasil revenues
The Gardasil franchise reported a 22% decline in revenues to $675 million in 3Q17 compared to $860 million in 3Q16. The decline was due to the impact of a pediatric vaccine stockpile by the U.S. Centers for Disease Control and Prevention and the cyberattack that impacted the production of Gardasil vaccines.
Other human vaccines
In addition to Gardasil, Merck's human vaccines portfolio also includes ProQuad/Varivax, RotaTeq, Pneumovax 23, and Zostavax. Total revenues for the human vaccines portfolio decreased 3% to ~$1.8 billion in 3Q17 compared to $1.9 billion in 3Q16. The decline in revenues was driven by lower sales for Gardasil, substantially offset by increased sales of Pneumovax 23, RotaTeq, ProQuad/Varivax, and Zostavax.
Zostavax is used for the prevention of herpes zoster infection in adults aged 50 years and older. For 3Q17, revenues for Zostavax were $234 million, an increase from $190 million in 3Q16.
Pneumovax 23, a pneumococcal vaccine, reported revenues of $229 million in 3Q17 compared to $175 million in 3Q16.
The iShares US Healthcare (IYH) holds 4.6% of its total investments in Merck (MRK), 3% in Abbott Laboratories (ABT), 3% in Gilead Sciences (GILD), and 3.9% in Amgen (AMGN).