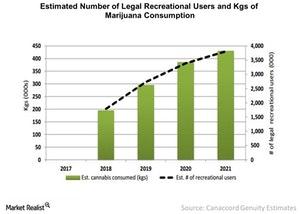 Why Marijuana and Cryptocurrency Investments Differ
By Adam Jones

Updated
Different end values
In the earlier part of this series, we briefly discussed why investors have recently rushed into cryptocurrencies and marijuana. In this part, we'll discuss the difference between these investment opportunities, starting with the marijuana industry (MJX).
Article continues below advertisement
Marijuana
Businesses exist to provide value to an end user, and marijuana's end use has been fairly well-established. There has been an established market for medical marijuana in several countries.
For marijuana to be used for its medical properties, it must pass through a rigorous scientific process that includes clinical trials. Companies such as AbbVie (ABBV) and Insys Therapeutics (INSY) are active in the medical marijuana market.
While the benefit of the use of marijuana for recreational purposes is still debatable, the market appears to be categorizing recreational marijuana use with the tobacco and alcohol industry. This trend was further substantiated by Constellation Brands (STZ) acquiring an ~10.0% stake in Canopy Growth (WEED).
The chart above shows how Canaccord Genuity estimates the number of recreational marijuana users and consumption volumes to increase by 2021 in Canada.
Cryptocurrency
Cryptocurrencies have also been around for a while. The end value of a cryptocurrency is to enable buying and selling as with any other world currency such as the US dollar.
Unlike the US dollar, which is heavily regulated, cryptocurrencies provided anonymity in a transaction. The anonymity of a transaction presented a significant appeal for cryptocurrencies. However, this anonymity also led to criminal activities as it was heavily used for transactions on the now-defunct Silk Road marketplace known for selling illegal drugs.
While the legitimacy of cryptocurrency has been clouded against this backdrop, some proponents of cryptocurrency say that it could evolve as the cheapest means of enabling global financial transactions.
In the concluding part of this series, we'll discuss what an investor must consider before investing in these two investment opportunities.