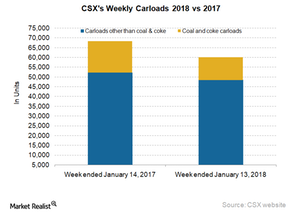 A Look at CSX's Freight Volumes in Week 2
By Samuel Prince

Jan. 22 2018, Updated 2:00 p.m. ET
CSX's freight volumes in Week 2 of 2018
Eastern US rail giant CSX (CSX) also reported a sharp decline in carload traffic in the week ended January 13, 2018. That week, its carload traffic fell 12% to ~60,000 units from ~68,300 carloads in the week ended January 14, 2017. Weekly freight data reveals that CSX may be losing shipments to rival Norfolk Southern (NSC). CSX CEO James Foote was confident of winning back customers during the company's 4Q17 earnings call on January 16, 2018.
Article continues below advertisement
The company's carloads, excluding coal and coke, contracted 7.2% from 52,100 carloads in Week 2 of 2017 to 48,300 carloads in Week 2 of 2018. These carloads accounted for 80.5% of CSX's overall carload traffic. Its coal and coke carloads fell 27.3% to 11,700 carloads from ~16,200 units in 2017's second week. In Week 2 of 2018, CSX witnessed a sharper fall in shipments than other US railroads (XTN).
Changes in carload commodity groups
The following commodity groups posted volume gains:
food products
crushed stone, sand, and gravel
primary forest products
The following commodity groups posted volume losses:
CSX's intermodal traffic
In contrast, CSX's intermodal traffic reported gains of 0.8% in the second week of 2018. The company hauled 52,000 containers and trailers that week, compared with 51,600 in the same week of last year. Container traffic rose 0.7% to 49,700 units from 49,300 units in 2018, and trailers rose 2.3% to 2,400 trailers from 2,300.
CSX's railcar traffic, including intermodal, reported a loss of 6.5% in Week 2 of 2018—a much larger loss than that seen by other US Class I railroads. In the next section, we'll take a look at Kansas City Southern (KSU).