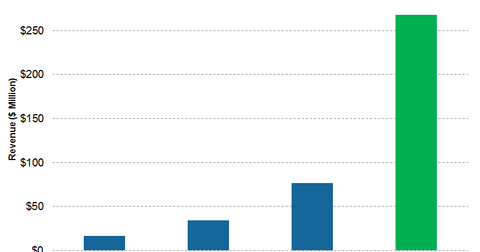 Jagged Peak Energy: The Newest Energy Company on the Block
By Keisha Bandz

Updated
Jagged Peak Energy
Jagged Peak Energy (JAG) launched its initial public offering (IPO) in January 2017. Like Centennial Resource Development (CDEV), the company has its core operations in the Permian Basin. Read the previous parts of this series to learn about CDEV.
Article continues below advertisement
JAG's revenue trends
The revenues listed in the graph above are for Jagged Peak Energy LLC, or JAG's "accounting predecessor." Jagged Peak Energy LLC became a wholly owned subsidiary of Jagged Peak Energy after the company's initial public offering, which closed on February 1, 2017. As we can see, there has been a consistent upward trend in Jagged Peak Energy LLC's revenues from 2014, when it posted $16.28 million, to fiscal 2016, when it posted $76.52 million. With the formation of Jagged Peak Energy, revenues are expected to jump significantly in fiscal 2017.
Fiscal 2017 will be the first operational year for Jagged Peak Energy.
Increased production forecasts and improving crude oil prices in late 2017, is likely what drove high revenue growth forecasts for the company. JAG's production guidance range for 2017 is 17,500 Boe/d to 17,800 Boe/d, an increase of 212% to 217% compared to 2016.
A key factor that could be driving these production forecasts could be JAG's increased capex in 2017. The company's capex guidance for 2017 is $550 million–$575 million, which compares to a capex of $215.1 million in 2016, an increase of 161% (at midpoint). The capex in 2017 will be financed mainly by the company's net proceeds of $397.4 million from its IPO earlier during the year.
Article continues below advertisement
Key operational highlights
In the 3Q17 earnings release, JAG's management noted that between January 1 and October 31, it had ramped up production from 34 new operated wells coming online. At the end of 3Q17, JAG had four wells that were being completed and five wells that were awaiting completion. Since the end of 3Q17, the company brought five gross operated wells online and is in the process of completing eight additional gross operated horizontal wells. JAG has a goal to triple its 2016 production in 2017.
Joe Jaggers, CEO and president, commented in the press release, "Our plans for fourth quarter 2017 include an average of six drilling rigs and three completion crews throughout the quarter. As evidenced by our third quarter results and our current estimated net production rate of 23,500 Boe/d, I have confidence in our team's ability to continue to execute our development plan."