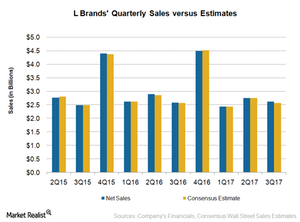 Looking at L Brands' Growth Initiatives
By Victoria Dean

Dec. 4 2020, Updated 10:53 a.m. ET
Growth strategies
L Brands (LB), one of the world's leading intimate apparel retailers, owns brands Victoria's Secret, PINK, La Senza, and Bath & Body Works. For some time, the company has been marred by a changing retail landscape. The shift to online shopping has reduced mall traffic, impacting store sales. Moreover, competitive pricing has resulted in larger markdowns, leading to subdued profitability.
To combat this hardship, L Brands has undertaken extensive growth initiatives. To drive efficiency, the company is focusing on cost control and inventory management. L Brands is also enhancing its speed to market and leveraging its stores to improve customers' shopping experience. L Brands remains focused on strengthening its direct-to-customer sales.
Article continues below advertisement
Victoria's Secret getting a facelift
L Brands is also streamlining Victoria's Secret, which is the largest contributor to its overall sales. While Victoria's Secret is synonymous with high-end lingerie and once thrived, of late, it has faced challenges, including the growing popularity of unstructured bras and rise of lower-cost competitors such as Aerie.
In 2016, the company exited Victoria's Secret swimwear and apparel to focus on its more profitable category, lingerie. The company is also stocking up on sports bras and bralettes, focusing on sleepwear, and trying to improve customers' experience in physical and online stores to boost sales.
Initiatives have yet to yield desired results
In fiscal 3Q17, sales rose 1% YoY (year-over-year) to $2.6 billion, beating analysts' estimate of $2.6 billion. International sales, driven by Victoria's Secret and Bath & Body Works, rose 11%.
However, comps fell 1% in fiscal 3Q17, with the company's exit from swimwear and apparel continuing to impact comps. In 3Q17, the exit impacted its comps by 200 basis points. Its adjusted EPS (earnings per share) fell 29% YoY to $0.30 in fiscal 3Q17, in line with analysts' estimate.
Its gross margin narrowed 190 basis points to 37.8% in fiscal 3Q17, while its operating margin shrunk 220 basis points to 8.8%. Victoria's Secret's total sales fell 2.9% to $1.5 billion in fiscal 3Q17 due to a low-single-digit fall in lingerie sales. As mentioned previously in this series, the company expected fiscal 4Q17 adjusted EPS of $2, whereas it had EPS of $2.03 in fiscal 4Q16.