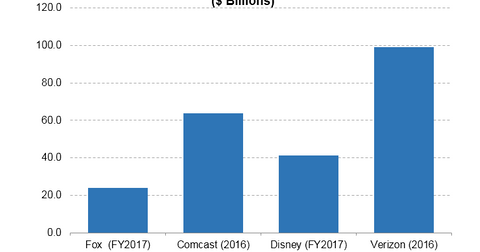 Inside Cost-Inspired Layoffs at Disney Properties
By Ruchi Gupta

Updated
ABC shedding jobs
Certain Walt Disney (DIS) properties, especially television operations, are cutting jobs as part of restructuring efforts that may be meant to help the company whittle down costs and realign its resources.
Disney's ABC Television Group is said to be quietly laying off workers at its television stations, production studio, and cable networks, with operational areas expected to be most impacted by the layoffs. The ABC group is reportedly eliminating between 100 and 200 jobs from its roughly 9,000 headcount.
Article continues below advertisement
ESPN cutting back office roles
As ABC quietly adjusts its workforce, ESPN—Disney's other media asset—announced in November that it was eliminating roughly 150 jobs.
"The majority of the jobs eliminated are in studio production, digital content, and technology and they generally reflect decisions to do less in certain instances and re-direct resources," ESPN President John Skipper wrote in a memo to employees.
Skipper added that the layoff would mostly affect employees performing behind-the-scenes roles.
Disney's ABC and ESPN businesses have undertaken a few rounds of staff layoffs in recent years. For example, ESPN cut about 100 jobs in early 2017, adding to the 300 roles it eliminated in 2015. ABC News eliminated some 400 positions in 2010.
Reining in costs
In a report cited by the New York Post, analyst Rich Greenfield of BTIG said that more job cuts could follow at Disney following the acquisition of most of Twenty-First Century Fox's (FOX)(FOXA) assets. Greenfield claimed Disney could eliminate over 5,000 jobs toward its goal of saving $2.0 billion in costs. Disney's operating expenses (or opex) for fiscal 2017 were $41.3 billion, a marginal decrease from $41.4 billion in the prior year. The company sees an opportunity to bring its costs further down once it acquires Fox.
Disney won over Comcast (CMCSA), Verizon (VZ), and Sony (SNE) in its race to buy key Fox properties while legacy media and entertainment companies move to respond to technology (QQQ) disruptions.