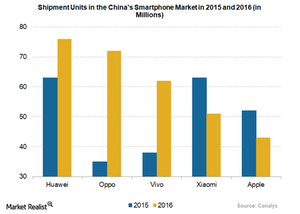 Inside Apple's Victory over Rival Xiaomi in EU Trademark Case
By Sophia Nicholson

Updated
Apple wins over Xiaomi
Apple (AAPL) has been declared the victor over Chinese competitor Xiaomi, which attempted to register the trademark "Mi Pad." However, Xiaomi failed as its name was generally similar to Apple's iPad.
Article continues below advertisement
Apple's response
According to Reuters, China-based (MCHI) (FXI) smartphone maker Xiaomi submitted an application with the European Union Intellectual Property Office (or EUIPO) in 2014 to get a European Union (or EU) trademark for its Mi Pad.
However, US (SPY) tech giant Apple argued that its iPad and Xiaomi's tablet computer Mi Pad not only have similar names but also have a high degree of phonetic similarity. Apple argued that this similarity could confuse the public.
Apple expressed concern that Xiaomi's Mi Pad could be read as "My Pad," which is similar to iPad. Xiaomi's first version of Mi Pad had the same screen size and resolution as Apple's iPad mini.
Apple brought a complaint to EUIPO in 2016 against Xiaomi. Apple expressed concern that consumers might buy the Mi Pad, thinking it was a variant of Apple's iPad. The court ruled in favor of Apple, and Xiaomi can appeal the court's ruling.
Growing popularity of Chinese smartphones poses a concern for Apple
Xiaomi competes with Apple on several fronts, including smartphones, tablets, wearables, and laptops. Apart from Xiaomi, Apple faces stiff competition from Chinese smartphone manufacturers such as Oppo, Vivo, and Huawei.
According to market research firm Canalys, Huawei shipped 76.2 million smartphone units in 2016, taking the top spot in China's smartphone market in 2016. Following Huawei, Oppo shipped 73.2 million units, while Vivo shipped 63.2 million units in 2016. Apple ranked fifth with 43.8 million units in 2016, down 18.2%.