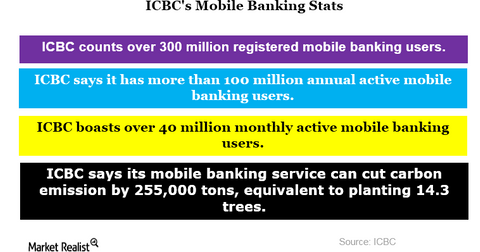 How the JD Finance–ICBC Partnership Works
By Ruchi Gupta

Jan. 19 2018, Published 2:47 p.m. ET
Blurring the line between offline and online banking
JD.com (JD) spin-off JD Finance partnered with the ICBC (Industrial and Commercial Bank of China) to launch the ICBC Xiaobai digital bank in November. ICBC is China's (MCHI) largest lender.
The aim of this digital bank is to enhance the customer experience by blurring the line between offline and online banking. The ICBC Xiaobai digital bank is integrated into JD Finance's app.
One of the benefits of the integration is that it enables ICBC customers to obtain a certificate of deposit slip without having to walk into the lender's physical outlets. JD Logistics, the courier arm of e-commerce retailer JD.com, was brought in to help deliver these deposit slips to ICBC Xiaobai digital bank users.
Article continues below advertisement
Co-branded outlets
ICBC and JD Finance also plan to cooperate in creating co-branded physical outlets, which allows them to offer their customers banking services that connect offline and online channels.
JD Finance is a rival of Alibaba (BABA) affiliate Ant Financial. The partnership with ICBC could give JD Finance increased customer exposure. ICBC's mobile banking platform claims more than 300 million registered users and more than 40 million monthly active users.
Connecting offline and online channels
When Ant Financial sought to acquire MoneyGram (MGI) for $1.2 billion, it also wanted the ability to offer financial services that connect offline and online channels to improve its customer experience.
MoneyGram, a US-based (SPY) cross-border cash remittance company, operates a global network of 350,000 physical outlets spread across 200 countries and territories. The US government blocked the sale of MoneyGram to Ant Financial.