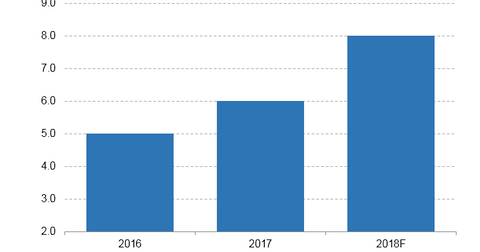 How Fox's Withdrawal Still Fits Netflix's Strategy
By Ruchi Gupta

Updated
The future of Netflix's contracts with Fox is uncertain
After Walt Disney's (DIS) chief executive, Bob Iger, suggested during an interview with Bloomberg that the company may include Twenty-First Century Fox (FOX)(FOXA) contracts in its programming withdrawal from Netflix (NFLX), Netflix responded by suggesting that it was prepared for what may follow.
A story carried by USA Today quoted a Netflix spokesperson as saying, "TV series always come and go on Netflix. […] some of the older Fox series are going."
Disney is acquiring Fox's studio business and a host of its other entertainment assets that supply programming to streaming video services such as Netflix and Time Warner's (TWX) HBO.
Article continues below advertisement
Withdrawing Fox content could drive up Netflix's costs
With Disney keen to launch its own streaming services, some experts speculate that it won't renew Fox's programming contracts with Netflix so that it keeps key content in-house in order to give its upcoming streaming services a distinctive touch in a crowded market. Disney has already informed Netflix that it would stop supplying it with content beginning 2019.
If Disney decides to pull Fox content from its platform, it could force Netflix to double down on its original productions, potentially driving up costs faster. Netflix projected that it would spend roughly $6.0 billion on content production and acquisition in 2017, and up to $8.0 billion in 2018.
Opportunity to reduce exposure to outside studios
But there's another way to view Disney's withdrawal to see how it fits with Netflix's long-term strategy. Netflix has been investing in the production of its own content as competition heats up with Amazon (AMZN) and newcomers to the streaming video market such as AT&T's (T) DirecTV Now.
In creating its own content, Netflix hopes to eliminate licensing costs in the long run and gain more control of its content supply chain So the exit of Disney, and even Fox, would still provide Netflix with an opportunity to kick its reliance on outside studios for content and reduce uncertainties in its operations.